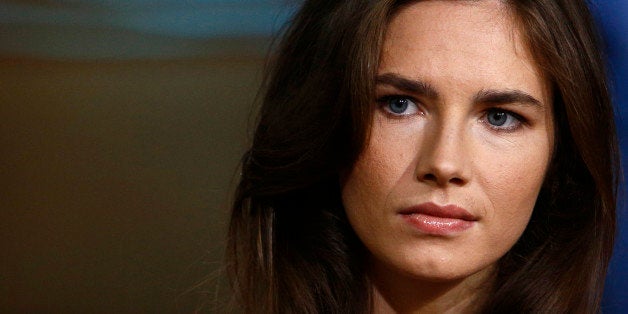 Two years ago, Italy's highest court overturned Amanda Knox's murder conviction and the 26-year-old Seattle woman returned home.
But now, Knox faces a retrial in the 2007 death of Meredith Kercher. Testimony begins on Monday, and the verdict could put her back behind bars.
While the retrial promises to be as circus-like as the first proceeding, one thing noticeably different will be the absence of the defendant.
Bremner is well known as counsel and spokesperson for the "Friends of Amanda Knox" organization. Bremner and a number of Seattle-area residents, including King County Superior Court Judge Michael Heavey, founded the support group in 2008 to raise awareness and money for Knox's defense fund.
Knox, who served nearly four years in jail for Kercher's murder before her 2011 release, explained her decision on Monday during an interview with ITV's Daybreak.
"There is the very real fact that I was imprisoned wrongfully and I cannot reconcile that experience with the choice of going back. It doesn't make sense," Knox said.
The prosecution has been vocal about its belief that Knox is guilty and plans to move forward with or without her.
Bremner said she expects the prosecution to "try the case they tried the first time."
The case against Knox is centered on the events surrounding Nov. 2, 2007 — the day 21-year-old British exchange student Meredith Kercher was found dead in the bedroom of her Perugia apartment.
According to the coroner's report, Kercher was partially nude, and her throat had been slashed. Her death, the report stated, was "slow [and] agonizing."
From the start of the investigation, authorities focused their attention on Knox, then a 20-year-old exchange student from the United States who was living with Kercher, and Knox's boyfriend, Italian engineering student Raffaele Sollecito. Authorities claimed to have found a knife with DNA from both Knox and Kercher at Sollecito's residence.
Knox was questioned for 50 hours over a four-day period following Kercher's murder. During police questioning, Knox initially said she was not in the apartment at the time of Kercher's murder. Later, she admitted she had been doing drugs and was confused. During further questioning, Knox said she was present at the time Kercher was killed, but implicated another person, Patrick Lumumba, in the murder.
According to Knox, Lumumba and Kercher had gone into the bedroom together and a short time later, she heard Kercher scream but was too afraid to do anything. However, not long after making this revelation, Knox retracted her statement and reverted to her original contention that she was not home.
Knox later alleged she had been slapped and put under pressure by police during questioning about the murder. The Italian Court of Cassation ultimately ruled Knox's statement inadmissible because police had not told her of her legal rights, appointed her a lawyer or provided her with an official interpreter.
Another suspect in the case was Rudy Hermann Guede, an acquaintance of Knox and Kercher. According to police, Guede's DNA was found on Kercher and his fingerprints were found in her bedroom.
Authorities suggested Kercher was killed by the trio during a sex game gone wrong. The prosecution alleged Knox tortured Kercher with a knife before cutting her throat, while Sollecito held Kercher down and Guede sexually assaulted her.
Knox, Sollecito and Guede each pleaded not guilty to charges of murder, sexual violence and robbery.
In October 2008, Guede was the first of the three to go to trial. Guede claimed that on the night of the murder he was in the bathroom when he heard Kercher screaming. He said that, when he came out, he saw a stranger standing over Kercher with a knife. Guede said he fought with the man before he fled the scene.
Prosecutors called Guede's version of events "highly improbable." They alleged his DNA was found mixed with blood discovered at the crime scene.
On Oct. 28, 2008, Guede was found guilty of assaulting and murdering Kercher. He was initially sentenced to 30 years in prison.
CASE PHOTOS: (Story Continues Below)
PHOTO GALLERY
Amanda Knox Timeline
The trial of Amanda Knox and Raffaele Sollecito began on Jan. 16, 2009.
During the trial, a key piece of evidence presented by the prosecution was the knife found in Sollecito's apartment. The knife was, the prosecution alleged, the murder weapon.
However, when it came time for the defense to present its case, professor Carlo Torre, a medical examiner and expert witness hired by the defense, testified that the knife in question could not be the murder weapon. He said the kitchen knife had a six-and-a-half-inch blade, whereas the knife used to kill Kercher had only a three-inch blade. He also testified it was his opinion that only one person took part in the killing.
"There are no elements or traces to suggest anyone else was involved ... nothing to make me think that more than one person was involved," Torre said.
The prosecution also argued that a clasp from Kercher's bra had revealed traces of her and Sollecito's DNA. However, the defense team argued the sample had been contaminated at the crime scene because investigators had accidentally moved the clasp across the room and there was a 47-day delay in retrieving the samples.
According to trial testimony, Knox's DNA was not found in Kercher's bedroom, the room where the killing took place, but Kercher's blood was found mixed with Knox's DNA in a number of areas in the bathroom. Knox's attorney argued that, since Knox was a resident in the same house, there were a number of possible explanations for this phenomenon.
Guede, the defense alleged, was the one who killed Kercher because his DNA was found on and inside Kercher's body.
Despite the lack of solid forensic evidence in the case, both Knox and Sollecito were found guilty on Dec. 4, 2009.
Knox was sentenced to 26 years in prison for murder, sexual assault and obstruction of justice. Sollecito received a 25-year sentence for murder and sexual assault.
Guede appealed his sentence in November 2009. His conviction was upheld by Italy's Court of Cassation, but they reduced it to 16 years. As a result, he will be eligible for release in 2016.
Sollecito and Knox remained jailed until October 2011, when their verdicts were overturned by the Italian Supreme Court at a second-level trial. In an official statement about overturning the convictions, the judges wrote there was a "material non-existence" of evidence to support the guilty verdicts.
"The judge [had] appointed independent experts to review the forensic evidence. They concluded that the evidence was compromised, contaminated and inadmissible," Bremner told HuffPost.
The jury upheld Knox's conviction for falsely implicating Lumumba. The sentence for that crime was three years and 11 days in prison, which she had already served.
Having the murder conviction overturned proved to be only a temporary reprieve. In Italy, a defendant who has been acquitted can be re-tried; and in March 2013, the Italian Supreme Court set aside the judgment of the appellate court and granted prosecutors an appeal.
"The case was overturned purportedly because the decision of the appellate court had 'inconsistencies,'" Bremner said.
The court's decision means Knox and Sollecito's appeal will be reheard. While a guilty verdict is possible, the fallout for Knox if that happens remains unclear.
"The last verdict standing in this case is the acquittal," Bremner said. "There can be no extradition attempt absent a change to her status. If she is convicted, the Italian authorities would need to commence the extradition process."
In order for an extradition process to begin, a hearing would need to be held before a federal judge in the United States where factual innocence is a defense and the double jeopardy argument exists.
According to Bremner, the U.S. State Department has denied some Italian requests, "largely where the subjects are government officials."
Knox said Monday that she is afraid of what might happen to her if she is found guilty.
"I have plenty to fear because I was already imprisoned wrongfully, I was already convicted wrongfully and this is everything to fear. This, as an innocent person, is the ultimate nightmare, this does not make sense," she told ITV's Daybreak.
The trial is scheduled to begin in Italy on Monday. At this point, the outcome is anyone's guess. Be that as it may, Bremner said there is one thing that everyone must remember, regardless of whether or not he or she follows the case.
"Injustice anywhere is injustice everywhere," she said.
BEFORE YOU GO