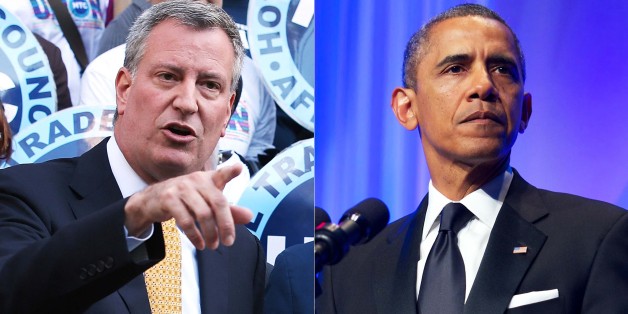 A Facebook page updated regularly with the latest political news. A home on YouTube for official campaign commercials and videos of appearances on the trail. A barrage of email messages so persuasive that recipients opt to volunteer for their candidate.
Those were pieces of the digital strategy that worked wonders for President Barack Obama's 2012 reelection campaign, and in the first high-profile New York race since then, they're showing up again.
Bill de Blasio, New York City's public advocate and the Democratic nominee for mayor, is running an advanced online campaign practically copied from the president's playbook, according to digital media and political consultants. His Republican opponent, Joe Lhota, has a smaller presence across social media sites and hasn't tapped online supporters to volunteer or get involved with the campaign.
"De Blasio took a lot of cues from the Obama campaign," said Josh Hendler, the chief technology officer for Hill & Knowlton Strategies, which tracked the online performance of the Democratic and Republican candidates running for New York mayor in the 2013 primaries. "From the beginning we were seeing that de Blasio was more active online, even before his stratospheric rise in the polls."
De Blasio used email, Twitter, Facebook and other social media sites more so than any other candidate in the crowded Democratic primary race, which he won earlier this month. Experts said that strategy achieved two goals: First, those platforms reinforced his message that he's the candidate to handle the city's widening disparity between rich and poor residents. Second, he converted people who followed him online into volunteers who called voters or gathered signatures during the petitioning phase.
"One of the lessons I learned on the Obama campaign is that your measures of success ... are about how many people online you're moving offline into action," de Blasio's digital director Jessica Singleton told HuffPost. Singleton worked on the digital team of Obama's reelection campaign and joined de Blasio in January. "The central focus of my job and of the digital program is to create opportunities for people to be a part of this campaign," she added.
Another takeaway from Obama's reelection for Singleton was that "content is key." Shareable infographics, personal photos that humanize the candidate and videos like the ad starring de Blasio's son, Dante, which became a viral sensation during the primary, are the types of material she wants to distribute in the general election.
Research conducted by Hendler showed that 21 percent of the emails sent to de Blasio supporters after July 15 focused on volunteering with the campaign. Lhota asked people to volunteer in only 3.4 percent of his emails. Instead, 44 percent of Lhota's emails were fundraising solicitations -- more than any other candidate, Hendler said -- while de Blasio asked for contributions in 25 percent of his.
When asked why Lhota's online efforts skewed toward fundraising, spokeswoman Jessica Proud explained that his chief primary opponent was the self-financed billionaire John Catsimatidis. "In the short time we built the campaign, we were effective in what we accomplished," she said.
The average age of a Republican primary voter in New York City is older than 50, and the voting pool is shallow -- Lhota won with fewer than 30,000 votes. Those two facts led his campaign staffers to believe there wasn't much to be gained with a robust digital program, Proud said.
After securing the GOP nomination, Lhota brought on a firm to advise him on digital strategy, Proud added. The campaign recently announced that supporters can get text-message updates on Lhota appearances and other activities sent to their phone. "We wanted to amp it up and make it more interactive," Proud explained.
Recent polls show de Blasio with a huge lead of more than 40 points over his Republican rival. With the general election only six weeks away, Lhota doesn't have much time left to build up his online following.
"My argument would be that digital is not something you can turn on after you've won the primary," Hendler said. "Our belief is that if you engage early, it will pay off later."
CORRECTION: An earlier version of this article misstated the number of emails sent by the de Blasio campaign to supporters.