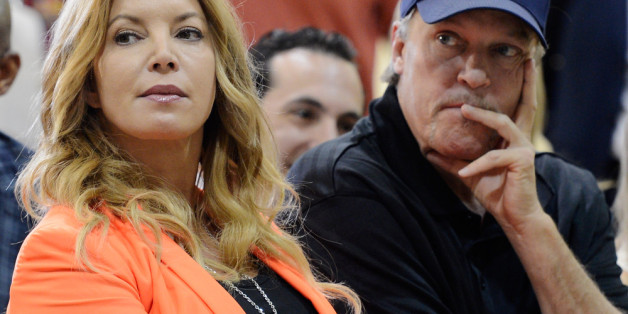 Do Jeanie and Jim Buss get along?
Excerpts from Jeanie's updated memoir, "Laker Girl," suggest they don't. According to excerpts published by the Los Angeles Times, the Lakers president detailed how the front office's decision to choose Mike D'Antoni over Phil Jackson as their head coach last season to replace Mike Brown affected Jeanie's emotional well being.
"The sequence of events -- Phil almost coming back and then being told someone else was better for the job -- practically destroyed me," Buss wrote. "It almost took away my passion for this job and this game. It felt like I had been stabbed in the back. It was a betrayal. I was devastated."
Considering her allegiances to Jackson as a longtime companion, Jeanie also suggested in the memoir that the situation hurt her relationship with her brother Jim, the Lakers' vice president of player personnel.
"Despite my brother's desire to open up the channels of communication between us, we still rarely, if ever discuss basketball," Buss wrote. "That should be OK because my dad was confident the franchise could be run that way. But I want my brother to realize that I'm not the enemy."
In statements released by the Lakers, both Jeanie and Jim Buss suggested they're open to extending each other an olive branch.
"The words and sentiments in Jeanie's new book reflect her feelings and frustrations nearly a year ago, and how she felt at that time," Jim Buss said in a statement. "I understand that Jeanie felt that way, and why she felt that way. Since that time, we have discussed the situation, the circumstances that led to it, and our feelings about it. Both of us feel this has been resolved and have put this behind us."
"Jim has been great in terms of understanding my feelings about this and in fostering an atmosphere that has led to better communication," Jeanie Buss said in a statement. "We have regular meetings and talks and are both committed to creating the best working environment possible, as are my sister and brothers as well. We are focused only on what is best for the franchise and in making the Lakers championship contenders."
The Lakers didn't make Jeanie or Jim Buss available for further comment.
Jeanie and Jim have acknowledged the challenge in carrying on their father's legacy, which entailed overseeing the Lakers winning 10 of their 16 NBA championships after purchasing the team in 1979 and building a brand that Forbes recently valued at $1 billion.
Jim Buss has been the Lakers' executive vice president of player personnel in eight of the past 15 years with the organization, Jeanie had been the Lakers' executive vice president of business operations for 14 years before becoming the team's president following her father's passing. The Lakers have set up a trust that are run by Jeanie, Jim and Johnny Buss. Buss' other children -- Joey, Jesse and Janie Drexel -- also have ownership stakes.
Still, the partnership has experienced conflicts.
Jackson, who recently became engaged to Jeanie, believed the Lakers would rehire him last November after meeting with him at his Playa del Rey home. After requesting two days to think over the decision, Jackson didn't receive a job offer. He was alerted at midnight the Lakers had hired D'Antoni, a decision that involved Jim, general manager Mitch Kupchak and the late Dr. Buss.
"I felt that I got played," Jeanie wrote. "Why did they have to do that? Why did Jim pull Phil back into the mix if he wasn't sincere about it? Phil wasn't looking for the job, and then he wasted 36 hours of his life preparing for it when they were never in a million years going to hire him anyway. How do you do that to your sister? How do you do that to Phil Jackson? I hope the flirtation with Phil wasn't just a PR stunt. I still can't get my head around the whole story."
BEFORE YOU GO
PHOTO GALLERY
101 NBA Posterizations