It isn't even October, but the latest disturbing sexually suggestive Halloween costume is already making rounds on the Internet. It's a "Naughty Leopard" ... sized for a 2-year-old.
Consumerist first posted an image of the getup, spotted at Walmart, and outrage quickly -- and unsurprisingly -- ensued. Walmart is now working on pulling the product from shelves, Danit Marquardt, a spokesperson for the store, told The Huffington Post.
Oregon news station, KATU, asked consumers what they thought of the costume. Three-year-old Claire loved it -- because of the sparkles. Her mom Katie wasn't as pleased. "I don't know, it's a little bit ... it's excessive," she told the station.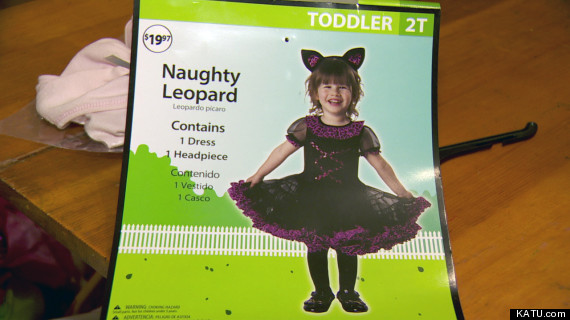 Jezebel's Lindy West explains the major problems with the costume in a nutshell:
Not only am I against both the sexualization of youngsters and dyeing your cat purple and making it wear mary-janes, I am also a staunch advocate of thinking critically about sexist messaging that conditions young women to believe that performing traditional femininity and being one-dimensional sex-chattel is their paramount utility in life.
Of course, the costume isn't much different from others on the market. We've reported before on the ways in which classic girls' costumes have become sexier. (See the below gallery for our findings.)
Lori on Feministing raises an interesting point about this particular costume. The labeling itself suggests that marketers feel it necessary to sell sex on Halloween -- even if it's to someone who has only been alive for two years. She argues that if not for the word "naughty," the costume would seem much more innocent. "The outfit itself reads more 'adorable leopard' and less 'sex sex naughty sex' to me, which means that it's deliberate marketing and less some necessity of design (?) that's leading to this completely inappropriate sexualization of young girls," she writes.
Walmart claims that is not their strategy. "It is never our intention to offend anyone and we apologize to any customers who may have been offended by the name of the costume," Marquardt said. Currently, the listing for the costume on Walmart's website does not include the word "naughty, but Marquardt was unable to confirm whether the discrepancy was a quick attempt to remedy the situation or not.
Then again, last year, when we looked at the evolution of girls' costumes...
BEFORE YOU GO
PHOTO GALLERY
Halloween Costumes: Then And Now