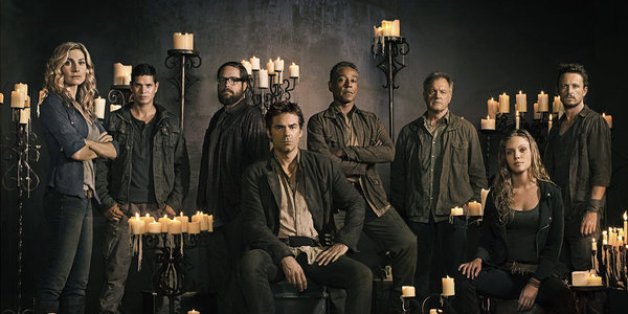 "Revolution" returns to NBC for Season 2 with a new night and time, premiering Wed., Sept. 25 at 8 p.m. ET. Last season's finale saw our heroes make the treacherous journey to the Tower where they were able to turn on the power, but at what cost? Without giving too much away, it's safe to say that the effects of this move prove to be catastrophic for everyone.
But is "Revolution" still worth your time in Season 2, especially with a slew of new shows jostling for the space on your DVR? Even creator Eric Kripke acknowledges that the show lost its way last year, telling TV Guide, "by the end of the season, around the time that we had drone strikes, I was watching along with everyone else and asking myself what is this show about? I just don't know what this show is about anymore."
Having seen the first two episodes of "Revolution's" new season, we can attest that Kripke seems to have led the show back on the right track. There are certainly still some extraneous elements, but Season 2 repositions many of the characters in intriguing ways and shifts the balance of power in unexpected directions, which is why we've compiled a list of 7 reasons why you should give the NBC drama another chance in Season 2.
1. Charlie's All Grown Up
While many -- including HuffPost TV's Mo Ryan -- took issue with Tracy Spiridakos' headstrong teenager in Season 1, Charlie will be out on her own in Season 2 and finally developing an identity independent of her family. She's on the hunt for Monroe (David Lyons) and while she's still not as tough as she thinks she is, it's nice to see her demonstrating how capable she is now that she's stepped out of Miles (Billy Burke) and Rachel's (Elizabeth Mitchell) shadows. There's no more whining, only ass-kicking.
2. Fresh Faces
Charlie's journey will bring her into contact with newcomer Patrick Heusinger, who plays a cocky (and appropriately attractive) bounty hunter called Adam who is somewhat reminiscent of a certain elder Winchester brother. Adam is charming and enigmatic enough to add an intriguing new dynamic, and we're curious to learn more about his backstory as the season progresses. Also joining the show is Stephen Collins, playing Rachel's father, Dr. Porter, who isn't exactly a fan of Miles but who allows us to see a very different side of Rachel.
3. It's Darker
Despite the earlier timeslot, Kripke -- who earned our eternal affection by creating the genuinely scary, undeniably thrilling "Supernatural" -- is doubling down on the creepiness this season, with Miles encountering a new foe who's a very different kind of evil, but possibly even more dangerous than Monroe, in his own way. The ending of Episode 2 is chilling.
4. Giancarlo Esposito Is Still A Badass
We doubt this is ever going to change, but it's still worth repeating -- the calculating Tom Neville always has a trick up his sleeve, but the season premiere will see the former Major in a whole new light, allowing Esposito to turn in a gut-wrenching performance. Still, even when Neville's down, you can't count him out, and it's great to see the resilient villain trying to find a new path to power even when the world has shifted around him.
5. Two words: Fight Club
You'll understand (and approve) when you see the premiere.
6. More Backstory
Seeing the world before and immediately after the blackout has always been fascinating, and there are plenty of flashbacks to help flesh out our favorite characters' pasts, giving us new insight into relationships that we thought we understood. And yes, that does mean the return of Tim Guinee as Ben Matheson.
7. A Bigger Bad?
With Monroe deposed, it's time for a new villain -- but is it the President of the United States? In the final moments of Season 1, we saw that the President was still alive, ironically holed up in Guantanamo Bay and waiting to return, a plan that will be put in motion by his supporters, the Patriots. They certainly seem to have the people's best interests at heart from the outset, but can they be trusted? Not all of our characters think so, especially given what Randall Flynn set in motion in the Season 1 finale.
Did you keep up with "Revolution" in Season 1, or did you check out early? Will you give it a chance in Season 2?
"Revolution" airs Wednesdays at 8 p.m. ET on NBC.
PHOTO GALLERY
NBC's New Shows 2013-2014