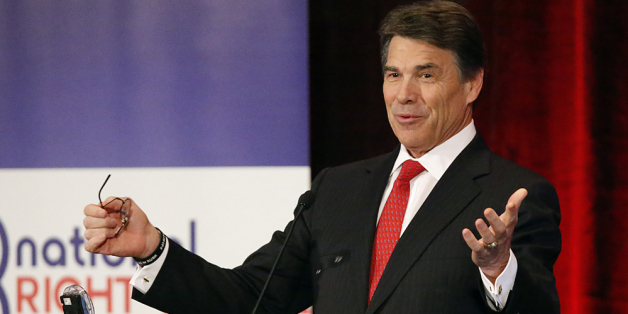 Count Texas Gov. Rick Perry (R) among Republicans who are not in favor of an Obamacare-government shutdown scenario.
In an interview with Yahoo's "The Fine Print" published Wednesday morning, Perry cautioned against the idea of shutting down the government over Obamacare, calling it "a bit nonsensical."
"I don't think it's a good option," Perry said. "There's still time to sit down and try to fix Obamacare."
Perry's comments came amid a long speech against Obamacare by Sen. Ted Cruz (R-Texas) that stretched through the night Tuesday. Facing a 1 p.m. Wednesday cloture deadline, Cruz had vowed he would speak "until I am no longer able to stand."
On Tuesday evening, Perry tweeted support for Cruz. And when asked by Yahoo! if Cruz was wrong, the governor would not go that far.
Washington, Listen to @SenTedCruz! #MakeDCListen

— Rick Perry (@GovernorPerry) September 24, 2013
"I'm not going to say that he's wrong," Perry said. "I hope that they're working to try to find the solutions to fixing this and working with both sides of the aisle."
Perry's comments come one week after he wrote letter requesting a federal block grant waiver to freely reform Texas' Medicaid system under Obamacare. According to Politico, an estimated $100 million would be available for the elderly and disabled in Texas.
BEFORE YOU GO
PHOTO GALLERY
How Many Fingers Is Rick Perry Holding Up?