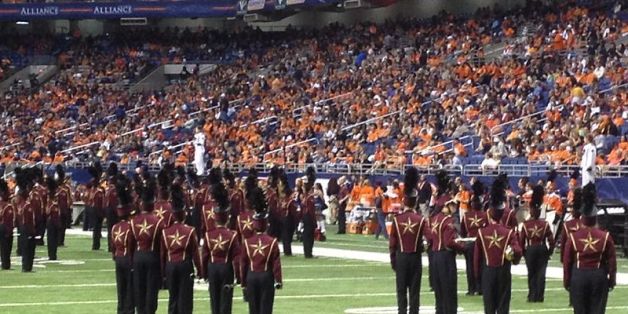 Thirteen members of the Texas State University drum line won't be performing at the football game this week after they were arrested and subsequently suspended from the band for an alleged hazing incident, KXAN reports.
The charges and suspension were announced Monday following a three week investigation by the university.
"Hazing is against the law, and it is also against university policy,"Joanne Smith, vice president for student affairs at TSU, told the Austin American-Statesman. "So we take this very seriously."
Police said that on Aug. 31, upperclassmen blindfolded freshmen students and gave them alcohol, according to KVUE. The younger students were then told to get on their knees and place their heads in the crotch of the older students. Some of the students who were allegedly hazed became ill from consuming alcohol.
In all, 13 students face charges, including two students accused of providing alcohol to a minor, and one student charged with filing a false report for providing an inaccurate account to police.
TSU is far from the only institution to grapple with this issue. Other schools are also responding to hazing reports, including Troy University in Alabama, where a fraternity pledge was allegedly pelted with eggs and dirt while strapped to a tree, according to the Birmingham News.
Cornell University suspended its entire lacrosse team this month to investigate hazing allegations.
Universities have been cracking down on dangerous initiation practices following high profile deaths during hazing incidents at Cornell, Florida A&M University and Northern Illinois University.
Research from the University of Maine found half of students nationwide involved in college sports teams and clubs experience hazing.

BEFORE YOU GO
PHOTO GALLERY
College Football Players Offsides: On Wrong Side Of Law