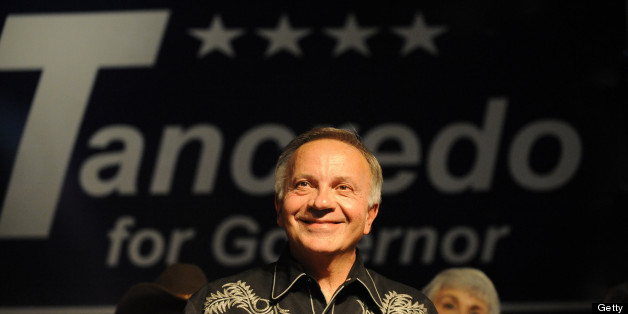 Former U.S. Rep. Tom Tancredo, a Republican, is upbeat about his chances to win the race for Colorado's next governor. But more than his own victory, what he really wants is for Democratic Gov. John Hickenlooper to lose.
"You pick the best," Tancredo said to a group of Republicans over the weekend, the Denver Post's Lynn Bartels reported. "You pick who you think can make this happen. That is imperative. That is above all else. Get rid of Hickenlooper. Get rid of this left-leaning wacko legislature along with him."
Besides Tancredo, two other high-profile Colorado Republicans have already entered the 2014 gubernatorial race -- gun-loving state Sen. Greg Brophy (R-Wray) and election fraud crusader Colorado Secretary of State Scott Gessler.
But if pitted against Hickenlooper, Tancredo does believe he can can win the governor's race and he may have good reason to think that.
A recent poll from Public Policy Polling found that Hickenlooper is tied with Tancredo in Pueblo, Colo. -- the same Democratic-leaning district that also voted out Democratic Sen. Angela Giron in an historic recall election because of her support for the state's new gun control laws.
Tancredo brought up the PPP poll over the weekend and said that being tied with Hickenlooper there "is like being tied with Obama in Chicago."
If Tancredo wins the GOP nomination, it won't be the first time he's squared off against Hickenlooper to become Colorado's governor. In 2010, Tancredo, running as the American Constitution Party candidate, was soundly defeated by Hickenlooper.
"He is a wild-eye liberal, left-wing ideologue," Tancredo said in 2010 of Hickenlooper, who was then serving as mayor of Denver. "You think I say crazy things? This guy takes the cake. He makes me look completely rational."
BEFORE YOU GO
PHOTO GALLERY
Conservatives Pointing Fingers