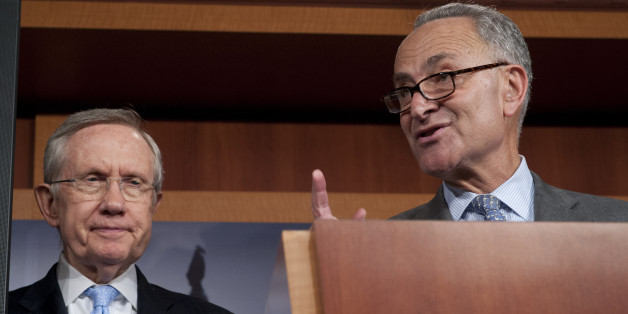 WASHINGTON -- With just four days left to avert a shutdown of the federal government, Sen. Chuck Schumer (D-N.Y.) has a message for House Speaker John Boehner (R-Ohio): Follow the example set by Senate Minority Leader Mitch McConnell (R-Ky.).
It's rare for McConnell to garner praise from Senate Democrats. But Schumer told reporters Thursday that Boehner could learn a thing or two from the Kentucky Republican who, despite facing a tough primary challenge from the right, bucked the tea party this week by opposing a strategy that would risk a government shutdown if Obamacare wasn't defunded.
"For the first time since the hard-right movement on Obamacare gained steam, Republican leadership in the Senate, backed by the majority of their caucus, began pushing back," Schumer said at a press conference.
Sen. Ted Cruz (R-Texas) was dealt a major blow Monday when both McConnell and Senate Minority Whip John Cornyn (R-Texas) rejected his push to filibuster the House-passed continuing resolution, which would keep the government open beyond Sept. 30 and permanently strip the Affordable Care Act of its funding. Cruz was trying to block the bill because if it passed, Senate Majority Leader Harry Reid (D-Nev.) could alter it to restore funding for the health care law with a simple majority vote.
"Leader McConnell and Sen. Cornyn made it clear that despite their objections to Obamacare, they will allow debate to move forward," Schumer said. "Despite the pressure from outside groups and members of their own party who are making this issue a litmus test for real conservatives, these leaders said enough is enough."
"You don't see Mitch McConnell or John Cornyn out there mounting a campaign to try and get the caucus to block the CR and cause a shutdown," he added, noting that it was because of their decision "not to play Cruz's game" that the Senate voted 100-0 Wednesday to begin work on the continuing resolution.
Schumer went on to point out that McConnell has drawn a tough primary challenge from Kentucky businessman Matt Bevin, while Cornyn has been attacked by tea party and grassroots activists, and yet both Republicans ignored conservative demands by putting Reid in a stronger position to push a clean continuing resolution through the Senate.
Once a revised bill passes the upper chamber, it will go back to the House, where Boehner rejected the idea of a clean spending bill Thursday. "I do not see that happening," he said at a press conference following a closed-door meeting with his members.
Schumer argued that the power to avoid a government shutdown rests entirely in Boehner's hands, and pointed out that the Speaker had less reason to fear the conservative wing of his conference than McConnell.
"Boehner is actually in a stronger position to resist [the tea party] than McConnell. He doesn't have a primary in his district," Schumer said. "So why doesn't he step up and do the right thing and allow a clean CR to go through? If Leader McConnell and Sen. Cornyn can stand up to the hard right with primary challenges nipping at their heels, Speaker Boehner, who's safe in his seat, ought to be able to do the same thing."
"Is he vulnerable to a challenge in his caucus? That's what they say. No more than Sen. McConnell is," he added. "Speaker Boehner would be wise to take a page from the Senate Republican leadership's book."
Boehner, for his part, said he doesn't expect a government shutdown to take place. But he also declined to offer any details about what changes his conference might make to the Senate bill -- or how it would have time to amend, debate and vote on the bill and return it to the upper chamber by Oct. 1. House Republican aides have said it's unlikely that GOP leadership will try to defund Obamacare again in a bill to keep the government open.
As House Republicans await the arrival of the Senate's bill, they've turned their attention to a showdown over the debt ceiling by pursuing major concessions from the White House in exchange for increasing the nation's borrowing limit.
Obama has repeatedly said he will not negotiate over the debt ceiling and even called Boehner last week to tell him as much. Reid told reporters Thursday he has had "not a single" conversation with Boehner about the debt ceiling.
When asked if he would be willing to negotiate over any of the House GOP's demands, the majority leader simply said, "No."
BEFORE YOU GO
PHOTO GALLERY
John Boehner Cries