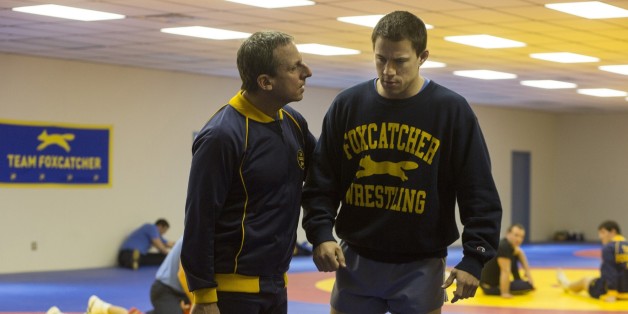 Five hours after the first trailer for "Foxcatcher" leaked online and was summarily evaporated from all sites by Sony Pictures Classics, the studio announced that Bennett Miller's highly anticipated feature will not come out on Dec. 20. The studio will now release the film on an undisclosed date in 2014.
"Sony Pictures Classics announced today that the release of 'Foxcatcher' is being moved into 2014," the studio said in a press release. "SPC supports the decision of the filmmakers to allow for more time to finish the film."
Starring Steve Carell, Channing Tatum, Mark Ruffalo and Sienna Miller, "Foxcatcher" tells the true story of John du Pont (Carelll), the schizophrenic millionaire du Pont chemical heir who shot and killed Olympic wrestler Dave Schultz (Ruffalo) at his compound in 1996. (Tatum stars as Ruffalo's onscreen brother.) The leaked first trailer was well-received on Thursday, with many citing Carell's against-type turn as du Pont as a potential Oscar contender. In fact, "Foxcatcher" had been considered a possible awards favorite in its own right, owing to the fact that Miller's first two features, "Capote" and "Moneyball," each scored Best Picture nominations. Miller has success with actors, too: Both "Capote" star Philip Seymour Hoffman and "Moneyball" star Brad Pitt received Best Actor nods (Hoffman won).
Miller's film is the second major year-end feature to officially push to 2014 following "Grace of Monaco," but it might not be the last: speculation is running rampant that Martin Scorsese's "The Wolf of Wall Street" will bump to 2014 as well.
"Foxcatcher" was set to bow at the 2013 AFI Film Festival in November. Whether that premiere still happens is unclear at the moment. Sony Pictures Classics had set "Foxcatcher" on the calendar just six weeks ago.
PHOTO GALLERY
Celebrity News & Photos