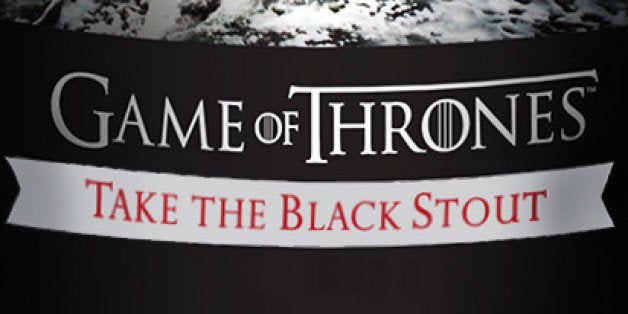 "Night gathers, and now my watch begins." So opens the oath for brothers pledging to the Night's Watch, a band of characters in HBO's "Game of Thrones" tasked with securing the northern border of the Seven Kingdoms.
It's also the basis for Brewery Ommegang's latest "Game of Thrones"-inspired beer, "Take the Black Stout," a sample of which was supplied to The Huffington Post for review prior to its larger release in the coming months.
"With the second beer, we wanted a big, substantial brew, something that would stick to your ribs and sustain you through long nights at watch on The Wall," Phil Leinhart, brewmaster at Ommegang, said in a release.
To accomplish that, brewers assembled a beer using Northern Brewer hops, Midnight wheat, roasted barley, and chocolate malt, resulting in a brew that pours nearly as dark as King Joffrey's cold, cold heart.
But is it worth trading a dragon for your hard earned cash?
On first sip, after several minutes of quiet contemplation, our experts concluded "Take the Black" is a lot like Jon Snow, the most prominent "Thrones" character in the Night's Watch: Not quite so masculine as it first appears, and even (dare we say) "kind of delicate."
While many stouts are unapologetically bitter, "Take the Black" eases into it with a lighter- and sweeter-than-expected profile. A deep, dark pour and mocha-colored head belie softer flavors like banana, caramel and clove. Lots of carbonation kept tongues tingling through "lingering espresso" and slight hop bitterness at the end. Though the supplied tasting notes refer to star anise and licorice root, none of our experts could discern the ingredients in any quantity. Instead, reviewers found a highly approachable "touch of raisin."
Building off that, one of our panelists referred to the beer as a "Unicorn style," in that a Belgian Stout, what Ommegang has effectively created here, doesn't officially exist. Much like the Iron Throne itself, the beer is alluring yet may ultimately be difficult to pin down.
For those unwilling to "pledge their life and honor" to the Night's Watch for a swig of the eponymous brew, the $8.50 price tag is a small price to pay for a novelty beer with mass appeal. Our panel generally agreed, though most conceded they were unlikely to hoard the stuff.
Brewery Ommegang's "Take the Black Stout" will be available nationally on draught and in 750ml bombers beginning in mid- to late September. To find a bottle, visit the beer locator on Ommegang's website.

Brewery Ommegang's latest "Game of Thrones" Beer, "Take the Black Stout:"