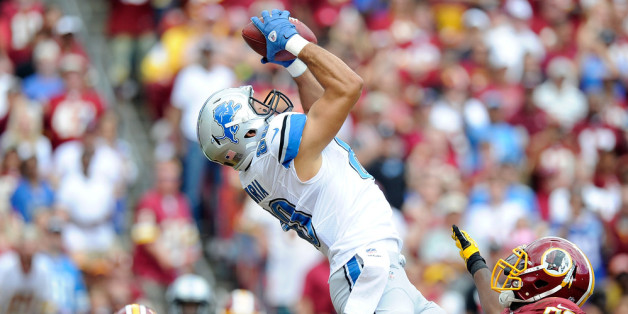 This is only Joseph Fauria's first season of football as a tight end for the Detroit Lions, but he's already got fans singing "Bye, Bye, Bye."
The rookie dedicated his *NSYNC-channeling end zone antics on Sunday to Jimmy Fallon, who featured a routine of hilarious touchdown dances when Justin Timberlake recently stopped by the show.
But, of course, Fallon wouldn't be satisfied until a real professional football player copied his dance moves in the end zone during a game. Since the NFL frowns on end zone frolicking, Fallon said he'd match the $10,000 penalty that a player could expect to receive from the league with a $10,000 check he would donate to the charity of their choice.
So when Fauria scored his five-yard touchdown to help the Lions beat the Washington Redskins 27-20, he dropped the ball for a little Timberlake time.
"We were going nuts," Fallon said on the show. "We all saw it on Twitter and we were going crazy."
Fauria, who was 10 years old when "Bye, Bye, Bye" was released in 2000, was pretty pleased with himself -- and the Lions win.
You may hate me, but it ain't no lie...

— Joseph Fauria (@BigJoeFauria) September 22, 2013
Said Fallon, "He looked way cooler than I did." Even a member of *NSYNC gave Fauria a good review.
Thanks my dude! I had a lot of practice in front of the mirror! "@realjoeyfatone: @BigJoeFauria my man !!!! Nice moves !"

— Joseph Fauria (@BigJoeFauria) September 23, 2013
Though the NFL didn't fine Fauria for his dance, Fallon still kept his word and donated $10,000 to the charity of Fauria's choice.
Proud to say that with the help of @jimmyfallon, I was able to choose to donate 10k to the @MakeAWish of Michigan! #JustKeepDancing

— Joseph Fauria (@BigJoeFauria) September 25, 2013
BEFORE YOU GO
PHOTO GALLERY
Hilarious Touchdown Celebrations