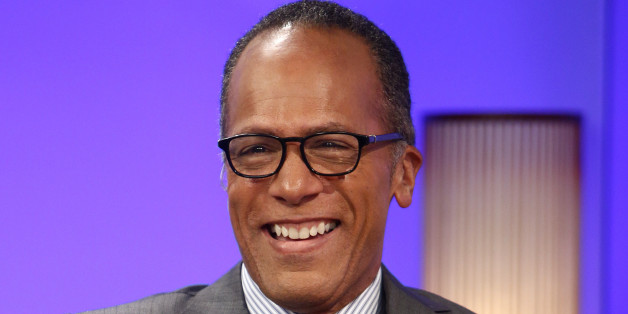 Lester Holt has seen a lot in his time at "Weekend Today."
On Sunday, Holt will mark his ten-year anniversary hosting the show. Since he started as a co-anchor of the program in 2003, he has covered his share of historic moments, as well as light-hearted stories.
"Among my favorite moments on 'Weekend Today' were on the occasions I got to anchor the show from Afghanistan," Holt told The Huffington Post in an interview, referring to segments when he was able to connect service members overseas with their families. He also listed ziplining through the Costa Rican rain forest and playing bass with some of his favorite bands, including Earth, Wind and Fire, the Steve Miller Band and Luke Bryan, among his most memorable times during his tenure.
Throughout it all, Holt has largely steered clear of the controversy that has occasionally beset his colleagues.
When asked to comment on the fallout for NBC News after Ann Curry's departure from "Today," Holt said that it was nothing that the network could not overcome. "It's a dynamic place, [full of] bright people, it's a competitive business and stuff happens," he said. "You can't lick your wounds because you're in a knife fight everyday in this business, whether it be daytime, morning or primetime."
The only thing to do, Holt added, is to "dust yourself off and keep going."
While it has largely remained outside of the drama experienced by the weekday show, "Weekend Today" has undergone its own changes in the past year, namely the addition of Erica Hill as co-host. Hill joined the show last November from "CBS This Morning," replacing Jenna Wolfe — who became the weekend newsreader — on Sundays. Months earlier, the show also saw the departures of Saturday co-host Amy Robach and meteorologist Janice Huff, who was succeeded by Dylan Dreyer.
Holt called the addition of Hill a "great move," and praised the dynamic on the current news team. Holt said the changes marked the "first period in the whole time I've been doing the show that we've had the same team doing the Saturday and the Sunday show."
Holt said that consistency has been critical to developing the team's chemistry, for example, allowing the hosts to "carry over a joke or a riff from Saturday to Sunday."

"It's really important for the audience because there's something very special about morning TV," Holt remarked, saying that viewers seem to have a "personal connection" to the anchors and the show they wake up to.
The genre, which combines weekend news and fluffier segments, is one that Holt said has given him a greater "license to be more of yourself" and the ability to "exercise news muscles that you've never used before."
Holt said he experienced that firsthand when he came to "Weekend Today" after doing hard news. After that, he eventually became host of the weekend edition of "NBC Nightly News" and of "Dateline" as well. "I just feel very privileged to wear a lot of hats around here," Holt said, citing his multiple roles at NBC News. He said that "Weekend Today" stands out, though, because it marked his transition to working at the network.
BEFORE YOU GO
PHOTO GALLERY
Faces of NBC News