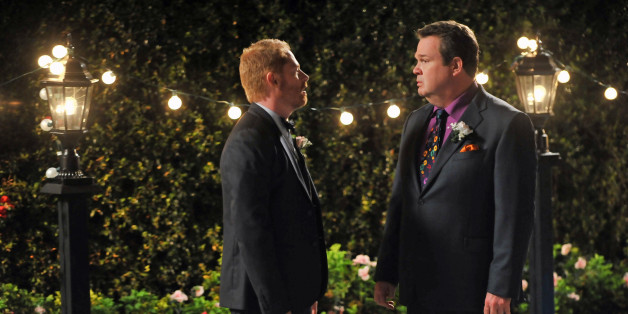 After a loving eight-year partnership, it finally happened: Mitch (Jesse Tyler Ferguson) and Cam (Eric Stonestreet) got engaged in the "Modern Family" season premiere.
Fans had been hoping to see the couple tie the knot from the series' beginning, but when gay marriage became legal in California (where the show is set) in May, it began to seem like a real possibility.
"Our goal really was to keep whatever story we were telling very specific to Mitch and Cam and just have the California part of it be the reason, the jumping-off point," writer Jeffrey Richman explained to The Hollywood Reporter of their decision. "As I started writing, I became unexpectedly emotional. I teared up hearing it read. And I completely teared up seeing that moment where they both just say 'yes' at the exact same time. That was so moving for me. I felt like, 'OK, maybe I got it right because I never cry at weddings.'"
HuffPost TV chatted with Ed O'Neill (Jay Pritchett) right around the time that DOMA and Prop 8 got the boot, and he teased that Cam and Mitch getting hitched was a definite possibility.
"That I don't know about, but it's not a bad bet," O'Neill told The Huffington Post. "I didn't think of that! Because, you know, Jesse's getting married this summer. You think he'll be wearing a bow tie?"
"Modern Family" airs on Wednesdays at 9 p.m. ET on ABC.
PHOTO GALLERY
'Modern Family'