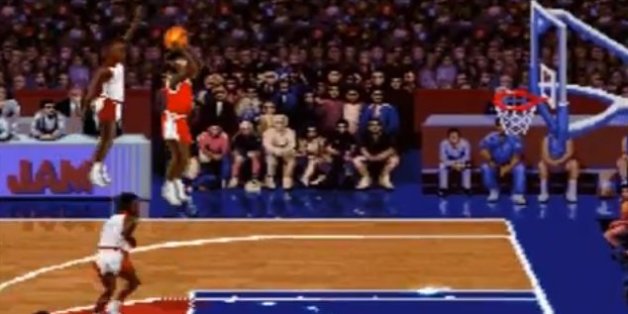 In the 1990s, the Chicago Bulls were an all but unstoppable force -- except on the pixelated hardwood of "NBA Jam."
In a recent interview with ESPN The Magazine, the seminal video game's lead designer, Mark Turmell, revealed "Jam" was rigged against the Bulls. Turmell, a Bay City, Mich. native (and avowed Pistons fan) told the magazine:
"If there was a close game and anyone on the Bulls took a last second shot, we wrote special code in the game so that they would average out to be bricks. There was the big competition back in the day between the Pistons and the Bulls, and since I was always a big Pistons fan, that was my opportunity to level the playing field."
Turmell revealed there was also a special code written in to lower Scottie Pippen's ratings whenever he played the Detroit squad.
(Below: See a video of how "NBA Jam" was made.)
"NBA Jam" became an overnight sensation when it was released in 1993 by
the now-defunct Chicago-based Midway Games.
Turmell told the magazine fights would erupt in Chicago arcades over whose turn it was to play when the game was first released. Midway eventually sold more than 20,000 arcade units with the highest-grossing consoles raking in $2,000 per week at their peak, according to video game review site 1Up.com.
The game was among the first to have secret "Easter Egg" characters (notables like Bill Clinton and Turmell and other Midway designers) that gamers could unlock.
Notably missing from the "Jam" roster is Bulls star Michael Jordan who was famously skittish about licensing his image for video games.
"NBA Jam" was also rumored to be haunted by the ghost of New Jersey Nets shooting guard Dražen Petrović. Petrović, who is featured in the game, died in a car accident before "Jam" was officially released.
LOCAL NOTE:
Many of the original "NBA Jam" consoles still see plenty of action in the arcades (or more commonly, "barcades") of Chicago:
Emporium Arcade Bar (1366 N. Milwaukee Ave.) has the '93 four-player edition of "NBA Jam."
Record store/arcade Logan Hardware (2410 W. Fullerton Ave.) has an "NBA Jam" console, though employees told HuffPost it's out of rotation at the moment.
HQ Beercade (2833 N. Sheffield Ave.) rocks two versions of the game: both the standard and tournament editions.
BEFORE YOU GO
PHOTO GALLERY
MOST CONTROVERSIAL Video Games