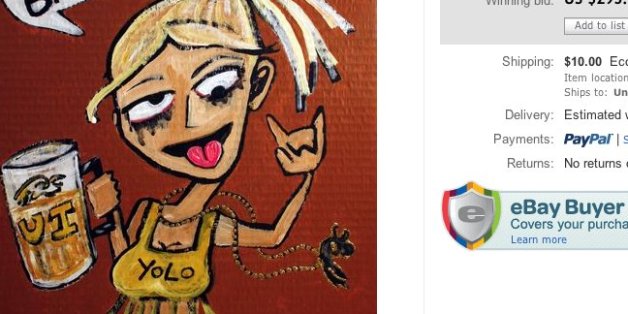 Heidi Atkins McEchron, a 36-year-old in Iowa City, created a painting to memorialize the infamous Vodka Samm.
Samantha Goudie, a 22-year-old University of Iowa student, became an Internet superstar when she blew a .341 as police arrested her at 1:21 p.m. on Aug. 31. Her later tweets and Vine posts boasted the dangerous blood alcohol level, writing "Just went to jail #yolo" and "I'm going to get .341 tattooed on me because its so epic."
McEchron titled the work, "An Intelligent Young Woman With a Bright Future." She sold the painting for $295 plus $10 in shipping costs on eBay this week, even though she told the Iowa City Press-Citizen she only hoped for $25.
"I was trying to parody the situation because, as a graduate of the University of Iowa, my degree is important to me," McEchron said. "I worked hard for it, I paid a lot of money for it, for both of them. To hear in the national conversation a University of Iowa woman as a drunken party girl, it's detrimental to me and all of the women who graduated from the university."
McEchron got a DUI herself in college, but she only blew a .12. She doesn't think students at Iowa -- the nation's top party school -- are drinking any more than they used to, it was just the "twittering" that McEchron said "really tripped my trigger."
"I have joked with my friends that surely someone will try to top this now, but it's a really dangerous thing to do, to get that wasted," McEchron said. "I think the only way you could top it is if you were found dead."
BEFORE YOU GO
PHOTO GALLERY
The Top Party Schools 2014: Princeton Review