More often than not, brotherly love is of the rough and tumble variety. For 10-year-old Tobias Bass, the relationship he has with his big brother, Titus, couldn't be more different.
Titus has cerebral palsy, a condition that's left him unable to hear, eat or walk. And while Tobias can't do much to remedy two of those ailments, he's determined to do whatever it takes get his older brother outside running, even though he says his mom "can't afford one of those fancy ... joggers."
To that end, the young boy wrote a heartbreaking letter to Oklahoma's News9 asking for help.
"No one has died, and I don't want any money, but I need help," begins Tobias, who says he plans to be a pastor someday. "My pastor said we have to be God's hands and feet, but I'm going to be his legs, too."
Tobias explains he's running a 5K on Sept. 27 and needs a jogger so he can run with his brother. "Can you go on the news and not ask Oklahomans to give me anything, but can someone loan me a jogger ... so I can push Titus in the 5k?"
"If someone can loan me a pusher I will volunteer myself out to any other parents who want me to run their disabled children in a 5k. I can be the legs for more than one kid," he adds.
After learning of the situation, News9 reports they were able to procure a jogging stroller for Tobias from Oklahoma's Assistive Technology Act Program, ABLE Tech. And Tobias gets to keep it.
The letter, seen below, "should break your heart into about a hundred pieces," Uproxx notes. The folks at USA Today apparently felt the same way: "This is going to make you cry happy tears."
Reproduced with permission from News9: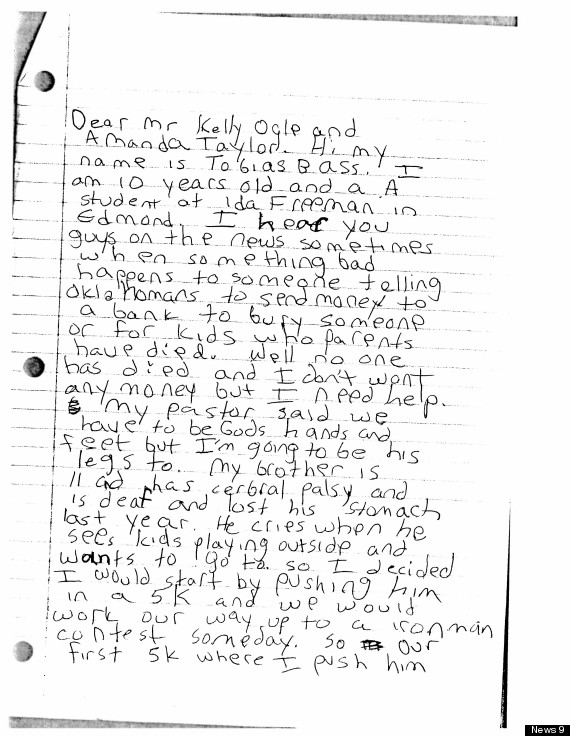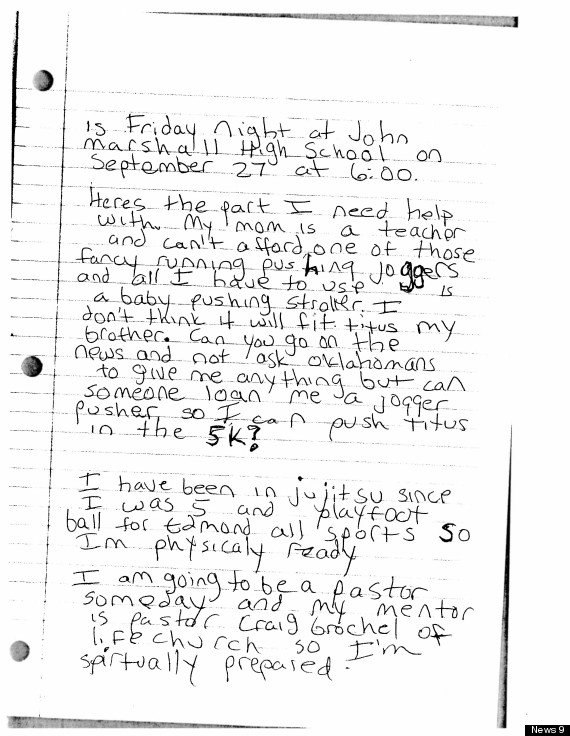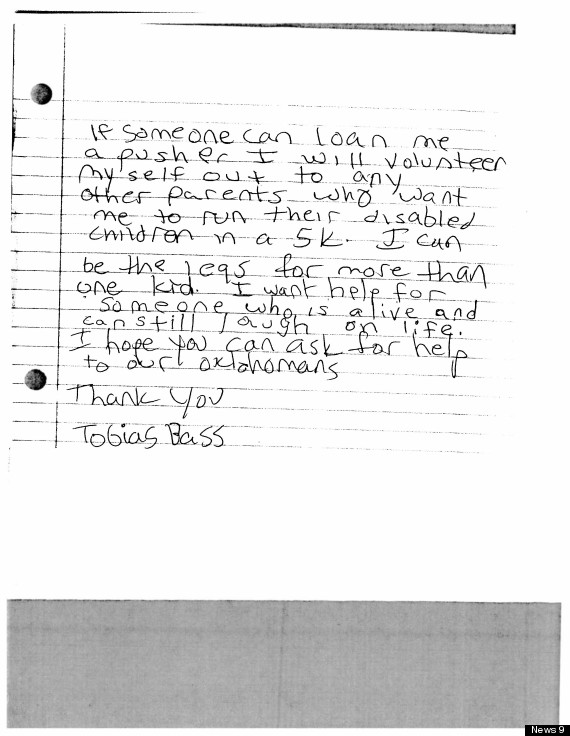 BEFORE YOU GO
PHOTO GALLERY
The Most Heartwarming Moments Of 2012