With its spontaneity and pervasiveness, Google Street View often captures the true essence of a place.
In Miami, weird news central, a Google camera unwittingly photographed a naked woman standing on a front porch holding a jug.
In Detroit, consistently named America's most dangerous city, Google Street View captured an image of a man standing on a front stoop appearing to aim a firearm at the Google car.
And now Google Street View has revealed the true nature of the Florida state capitol building with a frozen image of a Tea Party Protest.
The cheerful capitol awnings and quaint moss-draped oaks are surrounded by people waving 'Honk For Health Care Repeal" and "Taxed Enough Already" signs.
It's a fitting visual for a state where, "the rhetoric becomes the reality. It's kind of the tea party on steroids," according to one Florida Democrat in the House. "We've lost all navigation in terms of finding that middle ground."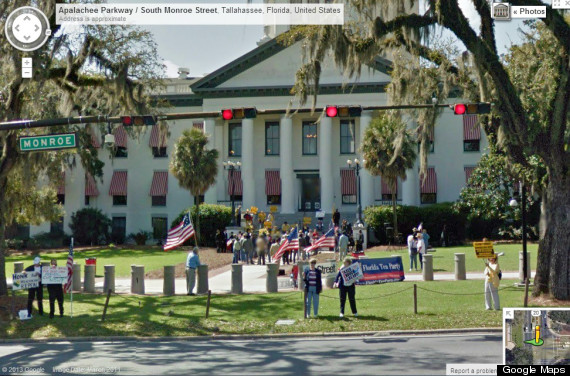 BEFORE YOU GO
PHOTO GALLERY
Strangest Google Street Views