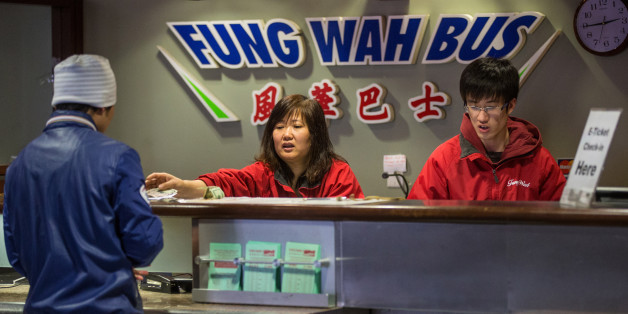 Big news today for fans of New York's Chinatown bus services: Two major companies that were shut down months ago are reportedly gearing up to get back on the road.
Fung Wah and Lucky Star could be operating again later this fall, provided they meet safety regulations imposed by the U.S. Federal Motor Carrier Safety Administration, The Boston Globe reported Friday.
Despite the companies' less-than-ideal safety records, service will (in theory) be less risky now that both carriers reportedly have hired safety managers and provided safety training for drivers, dispatchers and mechanics. The Globe also reported that Lucky Star is considering upping its prices to $25 during the week and $30 on weekends for one-way trips between Boston and New York City, which seems like a lot considering the company used to charge $15 for the trip. But if that means it can fix the gaping holes in the floors of its buses, it's well worth it.
Read the full report at The Boston Globe.
Lucky Star was shut down by federal regulators in June after it was declared an "imminent hazard to the public." Fung Wah has been out of service since March, when the federal transportation agency ordered it to cease operations after the company failed to inspect, repair and maintain its vehicles, falsified inspection records, failed to meet drug and alcohol testing requirements and did not ensure its drivers were qualified.
Regulators shut down more than two dozen other Chinatown bus companies after a series of crashes last year killed 17 people.
Neither Fung Wah nor Lucky Star responded to a request for comment from The Huffington Post.
BEFORE YOU GO
PHOTO GALLERY
12 Things The Tobacco Industry Doesn't Want You To Know