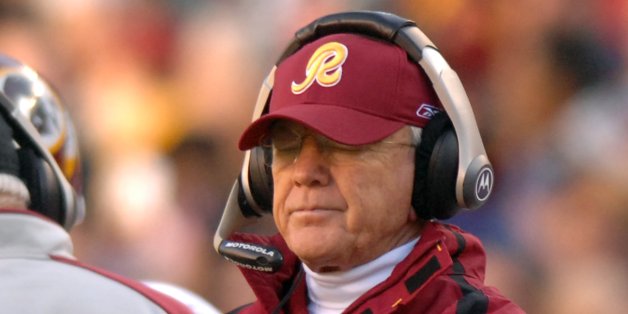 Former Washington Redskins head coach and Hall of Famer Joe Gibbs thinks "it would be wrong to change the team's name."
When asked by WNEW's Cameron Thompson about his thoughts on the controversy last week, Gibbs reflected on what the "Redskins" name means to him (instead of any Native Americans the name offends).
"I think one of the best things that I saw on that was that Rick Reilly article that came out here about two or three weeks ago. I think that says it probably the best, and for me, from the time I grew up as a young kid running around the hills of North Carolina, the only football team we could get was the Redskins," Gibbs said, via CBS DC. "So from that point on, everything I've known or been a part of has been Redskins. I never ever thought of it as anything negative, but it's all been a positive and I think that's what I reflect on when I reflect on the song, the games and everybody being loyal Redskin people."
In the article that Gibbs references, ESPN's Rick Reilly defends the "Redskins" name by pointing out Native Americans that he has met or knows who are not offended by the name of Washington's professional football team. There is no mention of any Native American who is offended by the name.
Earlier in September, NFL Commissioner Roger Goodell said during a radio interview that "we need to be listening" if just one person is offended.
"Well, as you guys know, I grew up in Washington. So, the Colts were my team early on, and then I became a Redskins fan," Goodell said on 106.7 The Fan in Washington D.C. "I know the team name is part of their history and tradition -- and that's something that's important to the Redskins' fans -- and I think what we have to do though is we have to listen. If one person's offended, we have to listen. And, ultimately, it is Dan's decision. But it is something that I want all of us to go out and make sure we're listening to our fans, listening to people who have a different view, and making sure that we continue to do what's right to make sure that team represents the strong tradition and history that it has for so many years."
BEFORE YOU GO
PHOTO GALLERY
Best 2013 Sports Photos