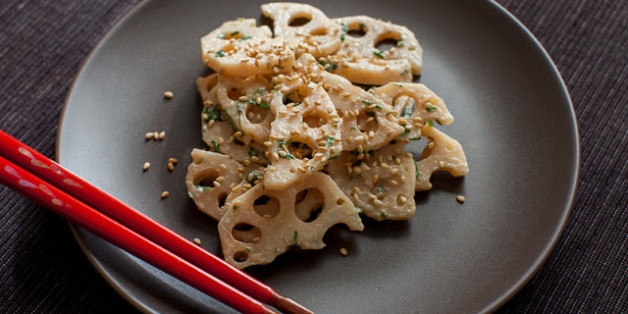 I'm embarrassed to admit that until very recently, I'd never cooked lotus root in my own kitchen. I'd enjoyed it in restaurants, fried into crispy chips, stir-fried with vegetables, ate it as a crunchy pickle, but I'd never cooked it myself. After a trip to Chinatown a few weeks ago, that changed, and now I'm just going to insist that you all do the same.
Although it doesn't look like much before it's sliced, lotus root is one of those amazing root vegetables that can be delicious in many different forms. It can be eaten raw, sliced thin and pickled in vinegar. It can be fried. It can be sautéed. It can be braised, mashed, puréed and even turned into glutinous cakes. For its final trick, you can even turn lotus root into dessert. The root is starchy enough to be treated like a potato, but crunchy enough to be mistaken for a water chestnut. We pulled together a few of our favorite lotus root recipes for you today, but do let us know your favorites in the comments.
Want to read more from HuffPost Taste? Follow us on Twitter, Facebook, Pinterest and Tumblr.
PHOTO GALLERY
Lotus Root Recipes