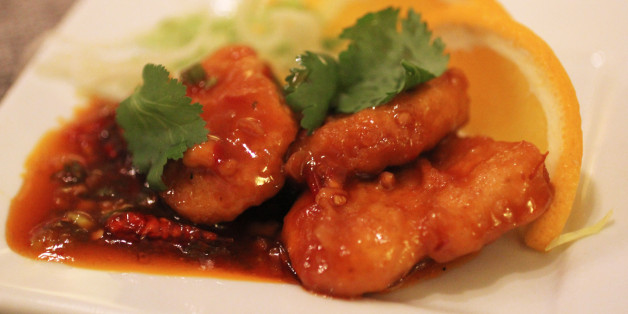 Thursday night at an elegant event space in Manhattan, suited gentlemen and ladies in cocktail dresses sipped Old Fashioneds and mojitos before sitting down to a five-course dinner prepared by celebrity chefs. Nothing looked amiss at the intimate soiree, except that every offering incorporated ingredients found in McDonald's dishes. The evening, orchestrated by trim, smiling McDonald's executives, aimed to change perceptions of the fast food chain.
"McDonald's USA offers good food that is served fast with a menu that evolves to satisfy our customers' changing tastes and lifestyles, including a variety of fruits and vegetables on our menu," read one promotional item handed out to guests. "Our food is made using real ingredients, with a focus on responsible sourcing," read another.
The evening's chefs, which included "Top Chef" star Dale Talde, aimed to hammer home these points. Dishes featured familiar items, like chicken McNuggets and hashbrowns, rejiggered for the sit-down affair. McDonald's French fries were completely unrecognizable in one dish's gnocchi, and a pumpkin spice "biznut" (a biscuit-donut hybrid) was made with McDonald's biscuit mix. Nearly every dish was accompanied by McDonald's produce. But some dishes' components would seem laughable on a McDonald's menu, like a vibrantly yellow saffron aioli.
Was McDonald's successful in changing hearts and minds? It's hard to say. McDonald's sourcing was barely mentioned. Talde's kung pao chicken made with chicken McNuggets were slimy and overly salty. A tortilla española made with hashbrowns was served hard and cold. Fried chicken was made with an oddly (and unnecessarily) sweet batter.
But a slow-cooked beef dish -- supposedly made with the same meat that goes into McDonald's hamburgers -- was passable, and the biznut could pass muster in any number of respected kitchens.
Take a look at the offerings below. Do they make you think of McDonald's differently?
PHOTO GALLERY
McDonald's Fancy Five-Course Dinner