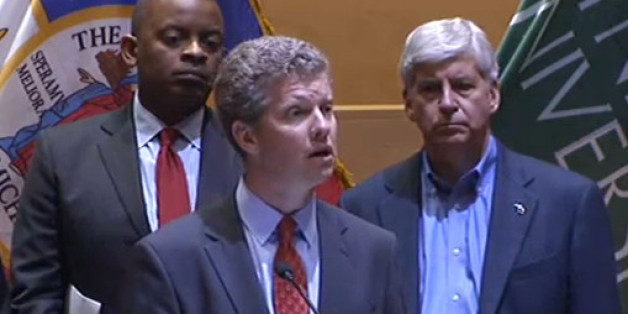 DETROIT -- A bailout still isn't on the books for Detroit, but top Obama administration officials met with regional leaders Friday before announcing an aid package that will total at least $300 million.
U.S. Attorney General Eric Holder, National Economic Council Director Gene Sperling, Transportation Secretary Anthony Foxx and Housing and Urban Development Secretary Shaun Donovan joined local and regional leaders in a closed-door meeting Friday morning at Wayne State University in Detroit. Members of Michigan's congressional delegation, local faith leaders, philanthropic advocates, business executives and union representatives were also invited.
The $300 million package, which was announced at a press conference following the meeting, includes $25 million for Detroit's firefighters and enough money to hire 10 new police officers; money to demolish more of the city's 70,000 abandoned and dangerous buildings (including commercial buildings, for whose demolishing no funding stream previously existed); $24 million to repair the city's battered bus fleet and install security cameras on board; and $65 million in Community Development Block Grant funds. Several million dollars will be spent to stimulate regional transportation and aid construction of the city's M-1 rail project.
Besides the federal grants, these funds are also coming from businesses and charitable foundations.
In addition, Sperling said that Todd Park, chief technology officer for the Obama administration, would bring tech experts to Detroit in October to help modernize some of the city's antiquated bureaucratic functions.
Harold Schaitberger, general president of the International Association of Fire Fighters, represents Detroit's firefighters and attended Friday's meeting. He stressed in an interview with The Huffington Post that the aid announcement was not a bailout and that the money pledged won't go toward the city's estimated $18 billion in debt.
"The administration made it clear that there just was no real opportunity for any new stimulus money," Schaitberger said, recalling a meeting he had with Obama aides two weeks ago. "There's not going to be a stimulus, and the Congress would never pass it if there was such a suggestion."
Some of the $300 million is money that should have already been in Detroit's coffers -- previously awarded grant funds that, for one reason or another, never made it to the city. The funds are "being expedited, repurposed, reprogrammed and unlocked," Sperling said at the press conference.
Sperling told the Detroit Free Press on Thursday that the $25 million to hire as many as 140 new firefighters had "been accumulating for years" but could not be accessed until now. Federal agencies also withheld $33 million in Community Development Block Grant funding from Detroit last year because the city hadn't met required obligations.
The Free Press also reported that the Obama administration has named Don Graves, a deputy assistant Treasury secretary and executive director of the President's Council on Jobs and Competitiveness, to assume Sperling's current role in directing the White House's response to Detroit's bankruptcy filing.
HUD Secretary Donovan, whose agency was instrumental in gathering almost $150 million to battle the city's self-proclaimed "blight emergency," told reporters that his first priority was making sure the money "hit the streets" with all deliberate speed.
"We all believe that this will be one of the great comeback stories of American cities," he said.
While the White House plans to be a "key partner" for the city as it goes through bankruptcy proceedings this fall, Sperling said it wasn't the White House's job to take the lead.
"We do not think of it as our job to devise the priorities for Detroit or the strategies of Detroit. Our job is to listen to all sectors of Detroit," he said.
Schaitberger said he gave the Obama administration high marks.
"They did what they said they intended to do in pretty short order," he said. "That doesn't take care of everything -- but they certainly followed through with what we talked about weeks ago, about what the administration could do to help the city."
But Schaitberger was displeased that there was no discussion Friday about the future of Detroit's retired and active employees, whose pensions and health care benefits could be cut or even eliminated in bankruptcy court. He said he had hoped that Michigan Gov. Rick Snyder (R) or Kevyn Orr, the city's emergency manager, would have raised that topic during Friday's meeting.
Schaitberger argued that Orr has overstated the size of the shortfall facing the city pension funds. The city's pension fund managers and Orr disagree over how the funds have been valued. Orr puts the projected shortfall at a minimum of $3.5 billion, more than five times the previous estimates, The Wall Street Journal reported.
"We can't be talking about destroying retirement plans or throwing retirees off of health care or freezing their benefits if we don't even know what is the real true debt and status of those plans," Schaitberger said.
BEFORE YOU GO
PHOTO GALLERY
The Ruins Of Detroit