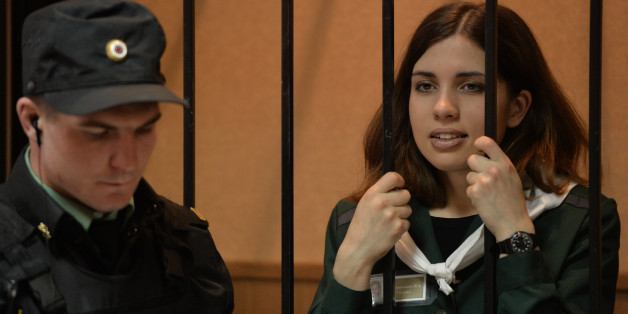 Nadezhda Tolokonnikova, a member of punk group Pussy Riot serving time at a Russian prison camp, was reportedly transferred to the jail's hospital on Friday. It was the fifth day of her hunger strike protesting what she says are long hours of forced labor and threats against her life.
The 23-year-old activist was moved to the prison's medical unit on the recommendation of doctors, her husband, Pyotr Verzilov, said in a public statement. A prison doctor described Tolokonnikova's condition as "terrible," Verzilov said, according to the Agence France-Presse.
Earlier the same day, Verzilov said prison guards had deprived her of water in the isolation cell to which she was recently moved. Prison officials said Tolokonnikova had not been denied water, AFP reported.
The mother of a five-year-old girl, Tolokonnikova is currently serving a two-year sentence at Penal Colony No. 14 in Russia's Mordovia region. She was convicted last year of "hooliganism motivated by religious hatred" after she and other Pussy Riot members performed a brief punk rock protest in a historic cathedral in Moscow.
Tolokonnikova wrote in a letter published online that prisoners at Penal Colony No. 14 are made to work 17-hour days stitching police uniforms. She also said that women who don't make quotas are forced to stand outside in the cold or are denied food.
Two other Pussy Riot members, Yekaterina Samutsevich and Maria Alyokhina, were also sentenced to two years in prison. Samutsevich was released in October 2012 after a judge suspended her sentence on the basis that security guards apprehended her before she could actually participate in the "punk protest." Alyokhina is serving time in a separate penitentiary.
BEFORE YOU GO
PHOTO GALLERY
Pussy Riot Member Freed