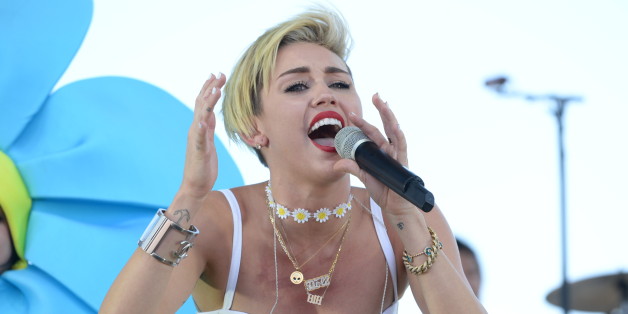 Welcome back to celebrity week in review, in which we review everything your favorite celebrities did this week (the name kind of gives it away, wouldn't you say?).
This week, Miley Cyrus hogged all headlines following her Rolling Stone interview. In it, Miley strips down, goes skydiving, talks about being sexy yet still embarrassed by her mom and, of course, drugs. Cyrus also graces the cover of Fashion magazine's November issue, in which she tells the magazine her breakup song "Drive" is about wanting to leave "someone" months before actually doing so.
Apropos of breakups, Richard Gere and his wife of 11 years, Carey Lowell, are reportedly going their separate ways.
Moving on. The Emmy awards injected much necessary glitz and glam this week, with stars waltzing down the red carpet in gorgeous dresses (hi there, Anna Gunn! Hello, Sofia Vergara). We also got some serious news when Michael Douglas won the award for Lead Actor in A Miniseries or Movie (for "Behind the Candelabra") and decided to call out the U.S. prison system, in which his son is incarcerated. "Right now I've been told that I can't see [his son, Cameron] for two years. It's been over a year now. And I'm questioning the system."
Lamar Odom was back in the spotlight after his father, Joe, spoke to RadarOnline and smeared the Kardashian's good name. Joe Odom said his son oughta divorce Khloe, but the next day Odom took to Twitter to say the Kardashians have been his only family. Meanwhile, Khloe dropped "Odom" from her last name on both Twitter and Instagram.
Also this week, Michael J. Fox opened up to Howard Stern about using alcohol to cope after his Parkinson's diagnosis over 20 years ago; Gwyneth Paltrow opened up to Refinery29 about infidelity, saying sex addiction is not a dealbreaker for her; Daryl Hannah opened up to People magazine about living with autism in Hollywood; and Mindy Kaling opened up to Parade magazine about losing her mother right as her show, "The Mindy Project," got greenlit for TV, and what it means to her to be a woman of color others look up to.
To close with a bang, "Real Housewives of New Jersey" star Melissa Gorga published a book that's been accused of advocating marital rape. In it, her husband Joe writes: "Every girl wants to get her hair pulled once in a while. If your wife says "no," turn her around, and rip her clothes off. She wants to be dominated."
See the week's best photos below:
BEFORE YOU GO
PHOTO GALLERY
Celebrity News & Photos