This post originally appeared on the Pure Detroit blog on September 27, 2013.

On your way to your seat at Ford Field this Sunday, you'll have to navigate through a graveyard of jerseys on the backs of Lions slappys young & old. The draft picks that just didn't pan out. The trades that reeked of hope but didn't produce much on the field. No matter what the season gives us — valiant victories, crushing losses, hopefully a deciding win against the Bears this Sunday — we'll always be reminded of past failures. That's why we've compiled this list — to remember, to forget, to scratch our collective heads and wonder aloud, "What happened to him?"
Here's to the Detroit Lions winning the Super Bowl this season. And here's a roll call of all the jerseys we wish you'd leave at home.
10. Tatum Bell
Tatum Bell gave Denver one decent season at running back and then came to Detroit, where he gave us a valiant 182 yards and one touchdown over 5 games. After being waived to make room for Rudi Johnson on the roster, Bell reportedly stole Johnson's luggage on the way out. Classy! The only thing that makes it worse is that it was over-the-hill Rudi Johnson coming to replace him. This photo of former Lions head coach Rod Marinelli telling Bell to lower his shoulder pads sums it all up.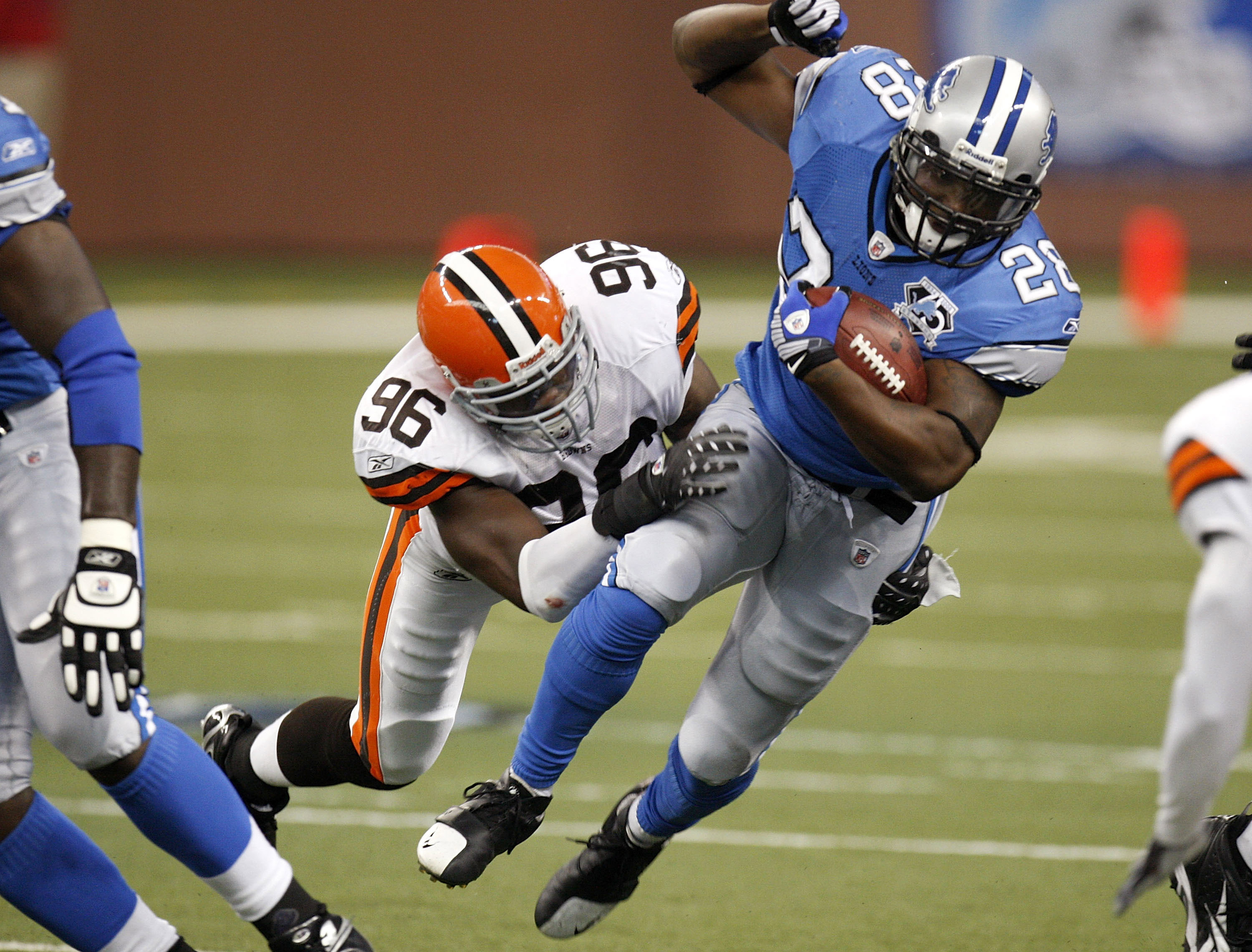 Tatum Bell #28 of the Detroit Lions tries to get around the tackle of Alex Hall #96 during a preseason NFL game on August 23, 2008 at Ford Field in Detroit, Michigan. (Photo by Gregory Shamus/Getty Images)
9. Artose Pinner
This sentence pulled from Wikipedia sums it all up: "Pinner has increased his rushing total in each of his first three seasons in the league, going from 99 yards in 2003 to 174 yards in 2004 to 349 yards in 2005." He would come crawling back to the Lions practice squad in 2008.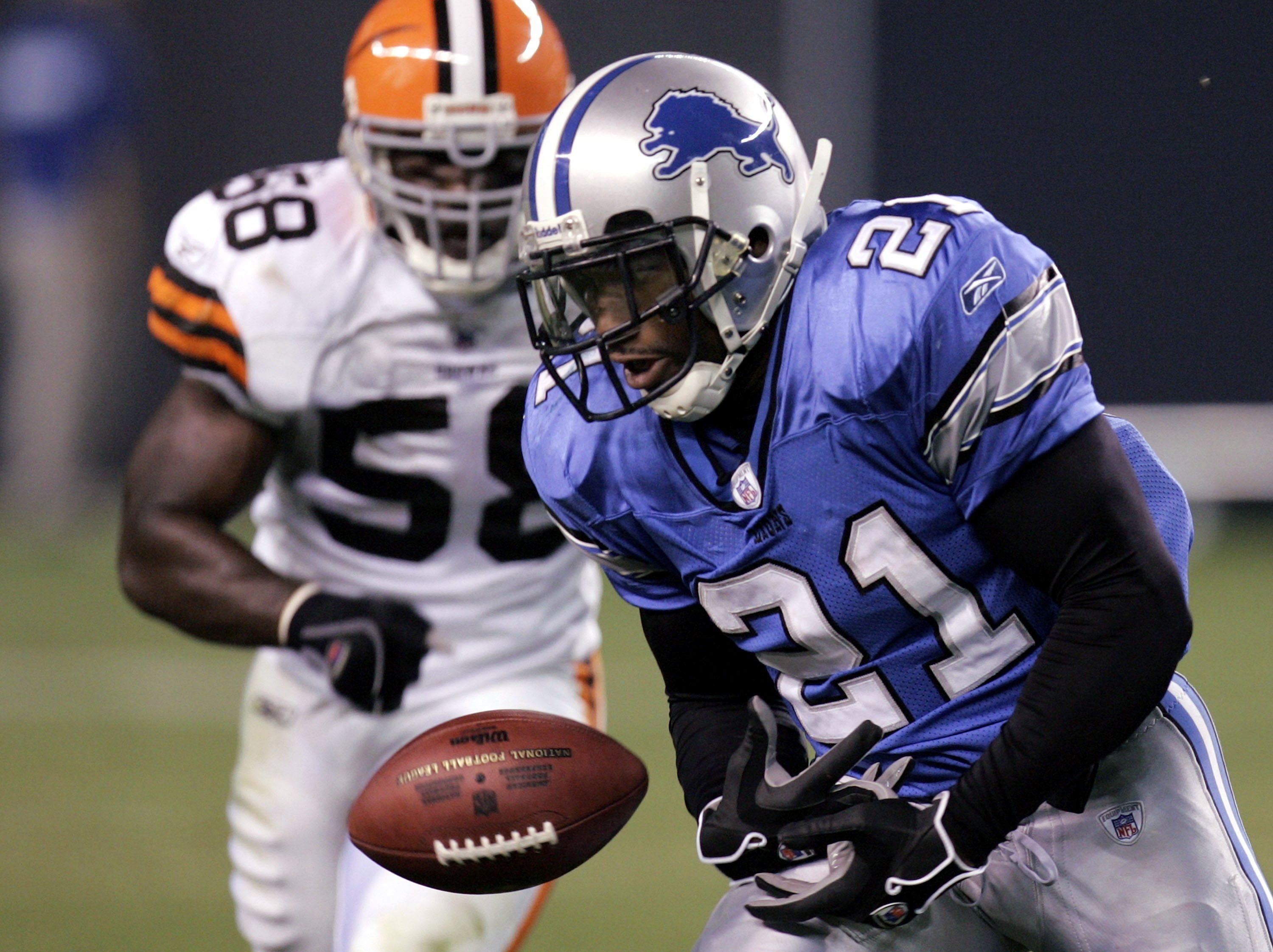 Artose Pinner #21 of the Detroit Lions can't hold on to this pass in front of D'Qwell Jackson #58 of the Cleveland Browns during a pre season game at Cleveland Browns Stadium August 18, 2006 in Cleveland, Ohio. (Photo By Gregory Shamus/Getty Images)
8. Zack Follett
Zack Follett's story is a sad one. A former Detroit Lions linebacker who saw little playing time, fans were engrossed with his potential—which was nill. In two seasons, he produced 31 tackles. But his homemade videos turned him into a bit of hometown hero. Personality in football tends to hold off the fans—at least for a while. He's currently suing the organization for workman's comp after a neck injury he sustained against the New York Giants in 2010.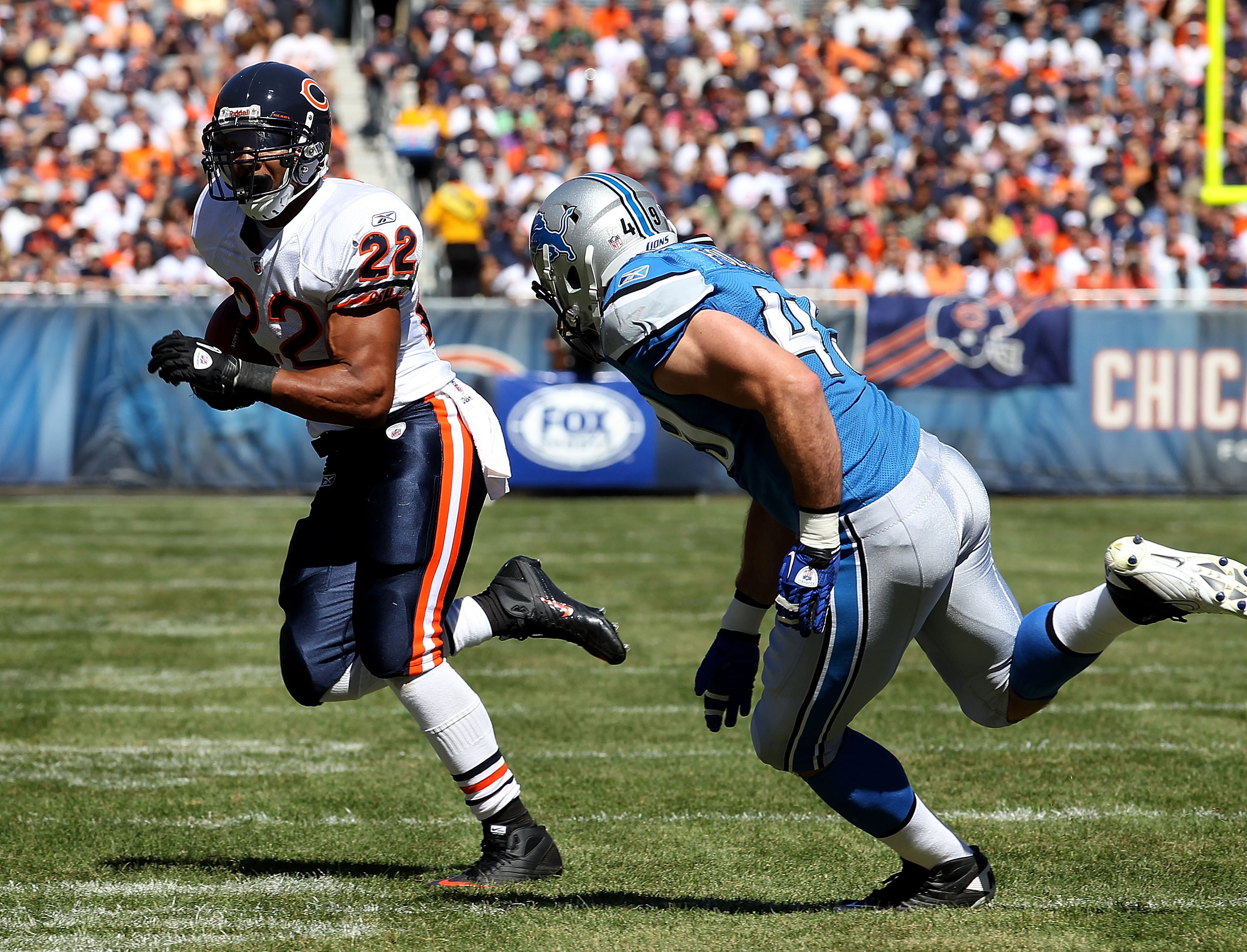 Matt Forte #22 of the Chicago Bears is pursued by Zack Follett #49 of the Detroit Lions during the NFL season opening game at Soldier Field on September 12, 2010 in Chicago, Illinois. The Bears defeated the Lions 19-14. (Photo by Jonathan Daniel/Getty Images)

7. Charlie Batch
Charlie Batch is doing exactly what he was always capable of doing — being a career no. 2 quarterback in Pittsburgh.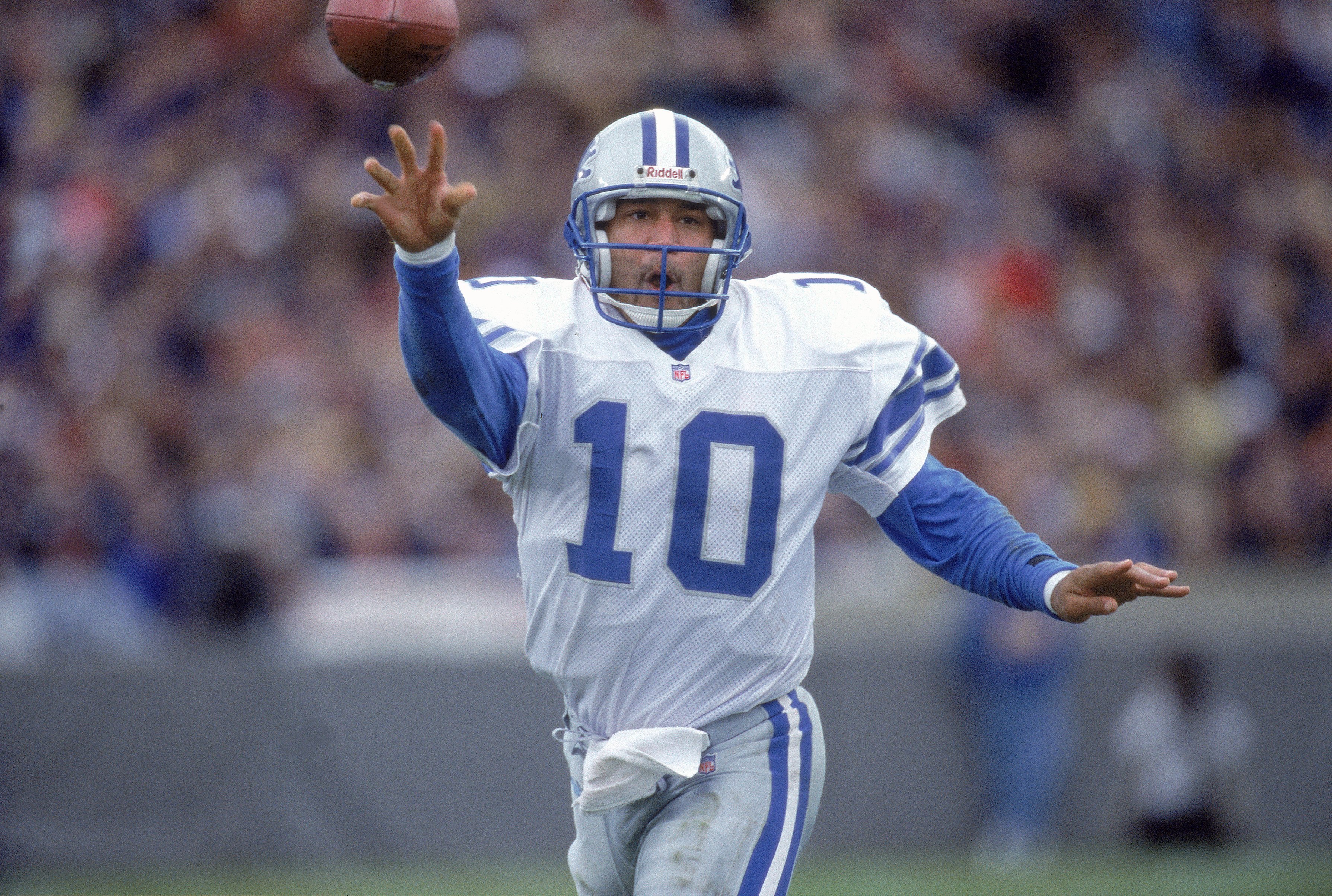 Charlie Batch #10 of the Detriot Lions throws a pass during the game against the Chicago Bears at Soldier Field in Chicago, Illinois. The Lions defeated the Bears 21-14. Credit: Jonathan Daniel /Allsport
6. Daunte Culpepper
You had so much hope in Daunte Culpepper, didn't you? Scott Linehan running offensive coordinator just like he did in Minnesota when Culpepper and Randy Moss were unstoppable (for that one year). He even had another big, freakishly talented body to throw to in Calvin Johnson. But as you might've guessed, his house was recently foreclosed on.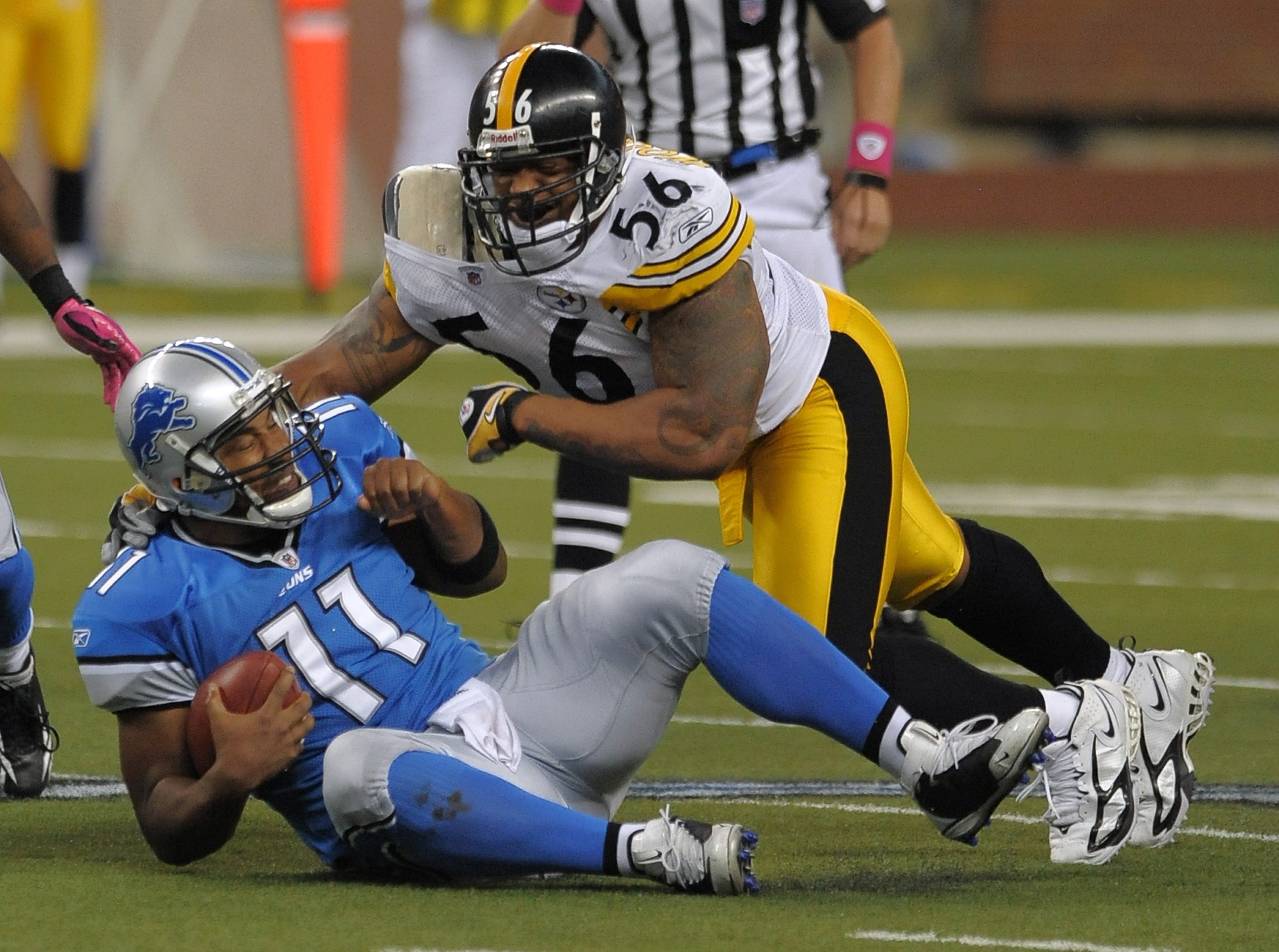 Daunte Culpepper #11 of the Detroit Lions is tackled by LaMarr Woodley #56 of the Pittsburgh Steelers at Ford Field on October 11, 2009 in Detroit, Michigan. The Steelers defeated the Lions 28-20. (Photo by Mark Cunningham/Getty Images)

5. Jon Kitna
The most memorable thing Jon Kitna gave the Detroit Lions is when he dressed up as an assistant coach for Halloween — the assistant coach who had recently drove drunk and butt naked through a fast food drive thru. The second most memorable thing Kitna gave the Detroit Lions was a brief flirtation with success in 2008 when he took the team to 6-2.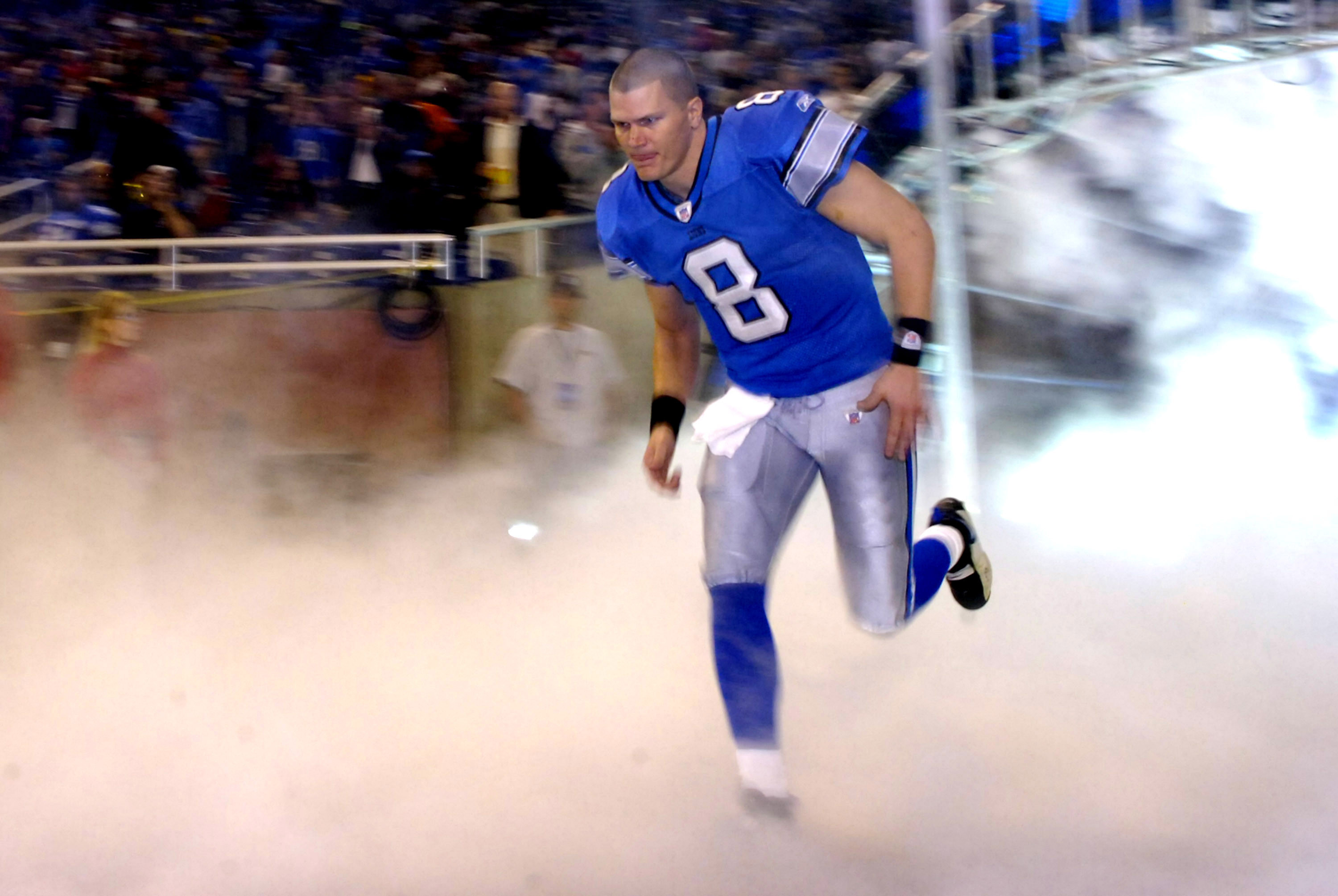 Detroit Lions quarterback Jon Kitna enters Ford Field before play against the Miami Dolphins in a Thanksgiving Day game Nov. 23, 2006 in Detroit. The Dolphins won 27 - 10. (Photo by Al Messerschmidt/Getty Images)
4. Roy Williams

Roy Williams was part of the wide receiver draft trifecta that also gave us Mike Williams and Charles Rogers. He did that annoying first down thing and was incredibly slow. Many thought he would succeed elsewhere — the curse of the Lions if you will — when Martin Mayhew masterfully traded him for a first- and third-round pick to the Dallas Cowboys. Alas, he did not fare well in Dallas or during his one-year stint in Chicago. He did not retire by choice. (Atlanta Falcons cornerback DeAngelo Hall breaks up a pass intended for Detroit Lions wide receiver Roy Williams in the second quarter of their NFL football game in Detroit, Sunday, Nov. 5, 2006. (AP Photo/Paul Sancya))

3. Mike Williams
Mike Williams currently plays for the Toronto Argonauts.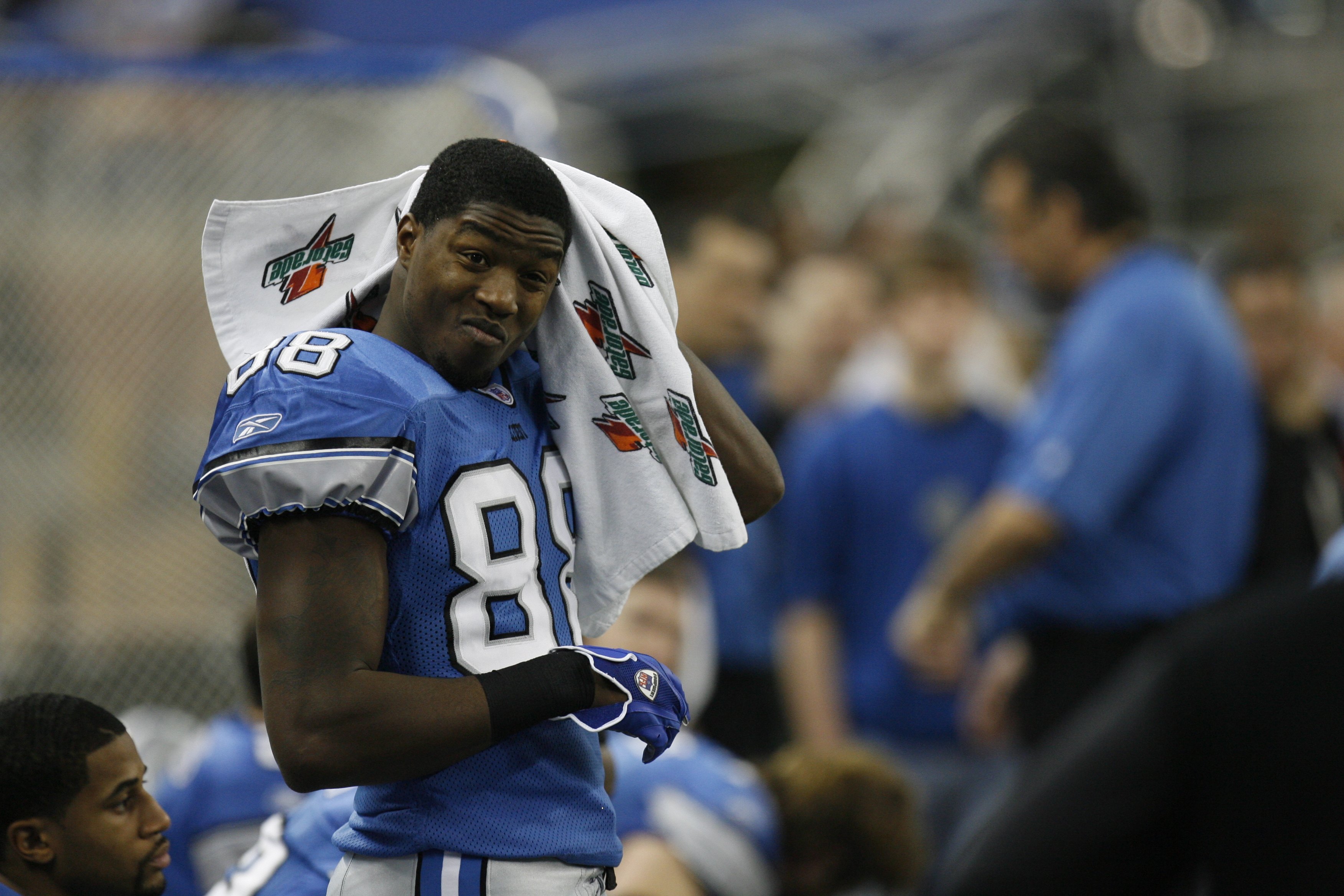 Wide receiver Mike Williams #88 of the Detroit Lions stands on the sideline against the Miami Dolphins on November 23, 2006 at Ford Field in Detroit, Michigan. The Dolphins defeated the Lions 27-10. (Photo by Gregory Shamus/Getty Images)
2. Charles Rogers
Charles Rogers had a ridiculous amount of talent, but is currently a walking police report.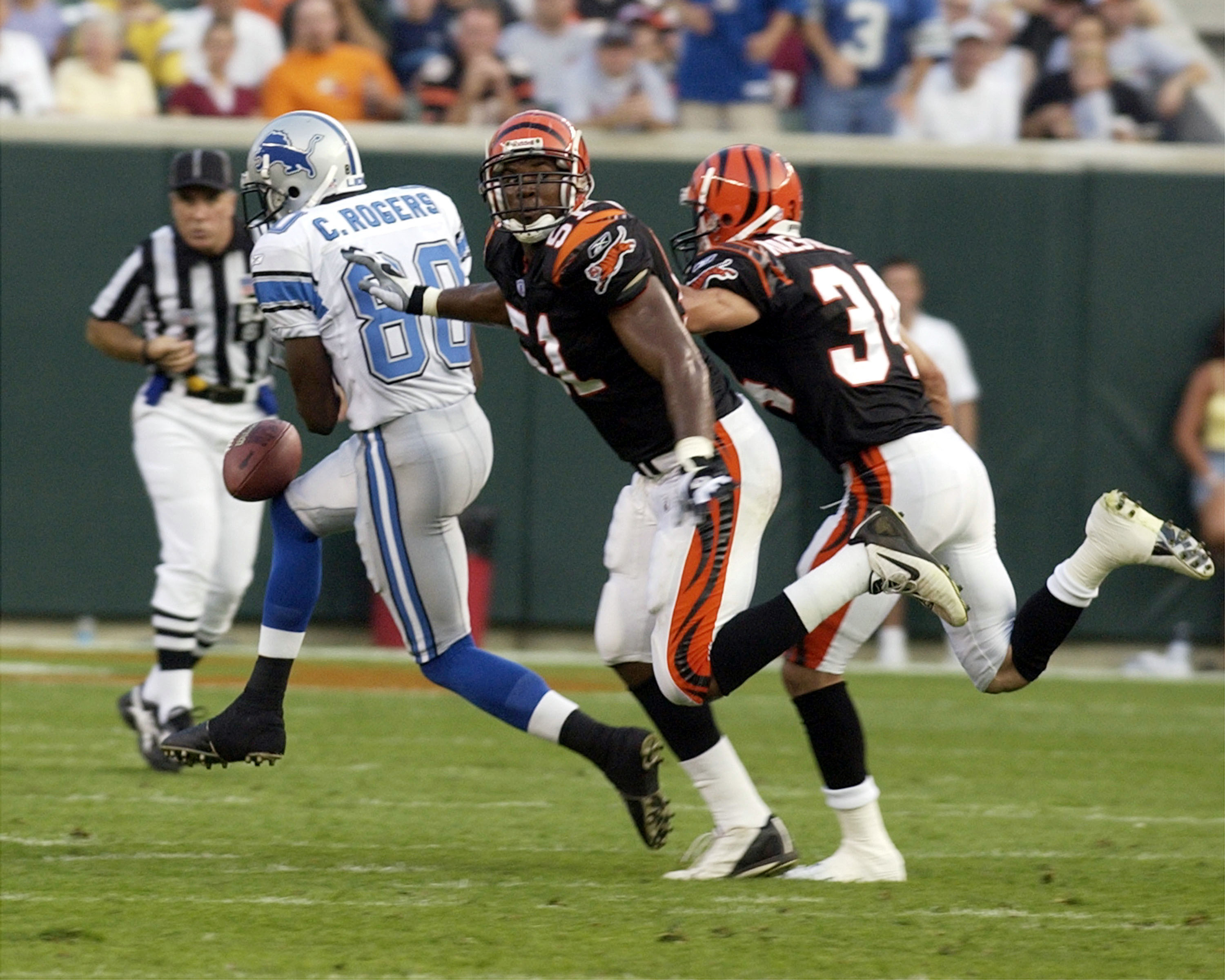 Detroit Lions WR Charles Rogers, the second pick in the 2003 NFL draft, drops a long, first-quarter pass as Cincinnati Bengals LB Kevin Hardy defends August 16,2003 in Cincinnatti. The Bengals defeated the Lions 23 - 10 in a NFL pre-season game. (Photo by Al Messerschmidt/Getty Images)
1. Joey Harrington
This jersey is by far the most incriminating of them all. Joey Harrington didn't stand a chance coming out of college, so Matt Millen immediately took him under his wing. He would be replaced by career journeymen Jeff Garcia. Harrington is currently looking confused somewhere around the Pacific Northwest. [PD] Detroit Lions quarterback Joey Harrington grabs his helmet after his pass to wide receiver Mike Williams in the end zone was ruled out-of-bounds during the final minutes of the fourth quarter against the Tampa Bay Buccaneers on Sunday, Oct. 2, 2005 in Tampa, Fla. The Bucs beat the Lions 17-13. (AP Photo/Scott Audette)

Pure Detroit is a Motor City apparel and lifestyle brand. Visit the Pure Detroit website for more Detroit style and stories.