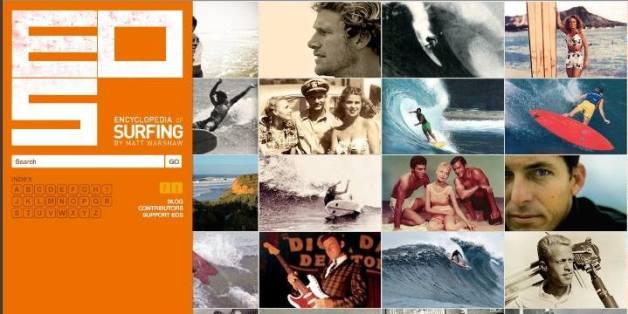 An authoritative, multi-thousand-entry Encyclopedia of Surfing Online will launch on Monday, Sept. 30, and it's going to be "off-the-chart awesome," if creator Matt Warshaw does say so himself.
Warshaw, a former Surfer magazine editor and author of three books: Maverick's, The History of Surfing, and the print edition of The Encyclopedia of Surfing, has been slaving over an online edition of his book.
Published by Harcourt almost exactly ten years ago, The Encyclopedia of Surfing was over 800 pages long and contained more than 1,600 entries. It was hailed as a "masterpiece" and "engrossing" by Salon, each entry "meticulously researched and unconventional, the details so carefully chosen and informative, the quotes and comments so sharp and witty, you'll find yourself pulled into a rich, alternate universe of surfing culture whether or not you're even mildly interested in it."
Amazon deemed the Encyclopedia the #2 sports book of the year, behind Moneyball. Former Surfer editor Joel Patterson called his copy "THE BIBLE," and even wrote that across the cover in black sharpie.
So if it ain't broke, why spend two years fixing it? In a video made for his Kickstarter campaign (he raised over $26,000 to do the project), Warshaw admits, "It's a book, and I think we all know where that whole thing is heading." (He follows the comment with an illustration of a dinosaur.) Also, Warshaw was a little bored. He had moved from San Francisco to Seattle, a change he called "a judo kick to the nuts for my surfing life."
The online version promises to be everything the book was and infinitely more, bursting with photographs, video clips, a fully searchable archive and constant updates: "A gigantic aqua-blue-tinged mass of history, culture, and commentary. Imagine your local library packed floor to ceiling with surf-related books, magazines, newspapers, photos, movies, TV shows and documentaries. There's a friendly reference librarian to help find anything you're looking for. Now put that whole thing onto your laptop. That's it!"
Warshaw has made some big promises about The Encyclopedia of Surfing Online, and expectations are high. But this is the most excited we've been about an encyclopedia in...ever. After all, as Salon said, the print version had "as much in common with the average encyclopedia as a Ferrari has in common with a little red wagon."
LIGHT THIS CANDLE—Encyclopedia of Surfing Is Ready for Launch from ENCYCLOPEDIA of SURFING videos on Vimeo.
BEFORE YOU GO
PHOTO GALLERY
Best 2013 Sports Photos