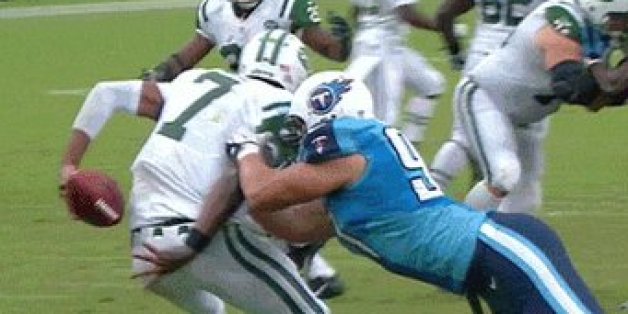 From the team that brought you the original "Buttfumble" comes another improbable and embarrassing turnover.
With Mark Sanchez watching from the sideline, New York Jets quarterback Geno Smith gifted a touchdown to the Tennessee Titans when he fumbled the football while attempting to pass it behind his back -- and butt -- from his right hand to his left as he was backpedaling into his own end zone. Titans defensive tackle Karl Klug was pursuing Smith on a 1st-and-10 play that began at the Jets' 16-yard line in the fourth quarter when the rookie lost his grip on the ball. Klug recovered it in the end zone to stretch Tennessee's lead to 31-7.
Smith finished with two interceptions and two fumbles in the Jets' 38-13 loss. The first-year quarterback out of West Virginia did bounce back to throw a 34-yard touchdown pass to tight end Jeff Cumberland after his take on the buttfumble.
"I'll get better from this," Smith said after the game, via the team's official website. "I'm one of those guys that can put this in my memory bank, put it behind me, and find a way to get better from it."
Put it behind you? Isn't that how you got into this mess?
While Sanchez's error against the New England Patriots last season seemed born of panic and obliviousness, Smith's gaffe appeared to be an intentional attempt to somehow fake the onrushing defender with some sleight of hand.
FLASHBACK: Mark Sanchez And The Original Buttfumble
BEFORE YOU GO
PHOTO GALLERY
PHOTOS: NFL Week 4