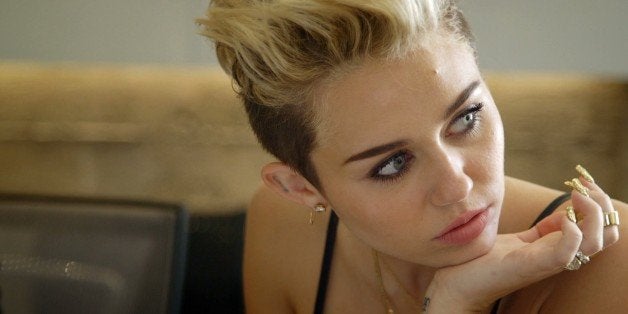 Miley Cyrus starts her new documentary by saying, "I don't apologize for anything," setting a defiant tone that underscores the entirety of the project. "Miley: The Movement" is the movie that MTV made for -- and with -- Cyrus, and while it positions itself as a behind-the-scenes look into the pop star's controversial year of mostly naked and racially complicated music videos and performances, viewers may be hard-pressed to walk away with new knowledge about the singer.
Sure, there's Miley saying she thought she would be in a band ("like Paramore") and that she's "a part of history" ("The way I am about Britney, some people are that way about me") and a "strategic hot mess." But as a question and answer session at a press screening with MTV executives revealed, "Miley: The Movement" was created with the input of Cyrus and her team. The film focuses heavily on the MTV Video Music Awards, which are presented as the holy grail of music, and doesn't include Liam Hemsworth (Cyrus' now ex-fiance) or Billy Ray Cyrus (her country singer superstar dad), nor does it address any accusations of cultural appropriation levied against Miley.
It does, however, include one line that prompted uncomfortable laughter at the aforementioned screening. Miley's mother, Tish Cyrus, appears often in the movie and notes that "all of a sudden, Miley was friends with all these ... people." She then goes on to discuss a studio encounter with Juicy J, the southern rapper whose musical stylings have informed a number of Miley's aesthetic decisions as of late (he's the dude whose show she famously "twerked" at). The way Tish marvels at her young, white daughter hanging out with black performers is so awkward that it almost feels like MTV is trolling us by not cutting the soundbite from the final edit.
Miley doesn't seem to have any complicated feelings on the matter. She chats constantly with "Mike Willy" (that's her nickname for Mike WiLL Made, the producer behind "We Can't Stop" and much of "BANGERZ," Miley's forthcoming LP), shouts out Pharrell Williams (who appears in the movie to say, "This whole process, I've just been saying, 'yes'") and even gives a shout-out to Amazon Ashley (the statuesque model on whom Cyrus pantomimed performing analingus on and whose rear she slapped repeatedly while on stage at the VMAs).
Of course, no celebrity documentary is complete without adversity, and in this case we're presented with no less than three bouts of despair. In one, a dramatic mood and a brief phone call to Mike WiLL underscore the idea that "We Can't Stop" might not be a smash hit because it debuts at in the 180s on the iTunes chart. But by midday, the song is No. 1 in basically every country -- it was at 181 because it had literally just been uploaded. The second crisis comes when Cyrus develops a one-day cold (a host of treatments, including a flown-in masseuse, don't help). Finally, at the VMAs themselves, Cyrus' entry to the red carpet doesn't go exactly as planned, sending the singer into an expletive-laden rant (think Katy Perry's crying-about-her-divorce-before-going-on-stage minus the divorce).
There are some redeeming moments in the mini-movie, but most come at Miley's expense. Britney Spears has a standout appearance, and the face she makes when Miley says Billy Ray thought his daughter would "become a stripper" after seeing the "I'm A Slave 4 U" video is probably worth watching the entire movie.
Cyrus parses some of the post-VMAs criticism by focusing on allegations her performance was too sexual. She successfully flips the script on would-be slut-shamers by pointing out that she was dressed as a baby surrounded by teddy bears before dropping two memorable lines. One almost needs a 2 Chainz-esque "truuuuu" to go along with it: "You're always gonna make people talk, you might as well make them talk for like two weeks rather than two seconds."
"We're in 2013," Cyrus says in the second-most notable quotable of the film. "I live in America, which is the land of the free, and I feel like if you can't express yourself, you're not very free." In the MTV version of the world, Miley Cyrus is a an honest-to-god civil rights advocate.
"Miley: The Movement" airs at 10 pm ET/PT on Wednesday, Oct. 2 on MTV.
BEFORE YOU GO
PHOTO GALLERY
2013 MTV Video Music Awards Red Carpet Arrivals