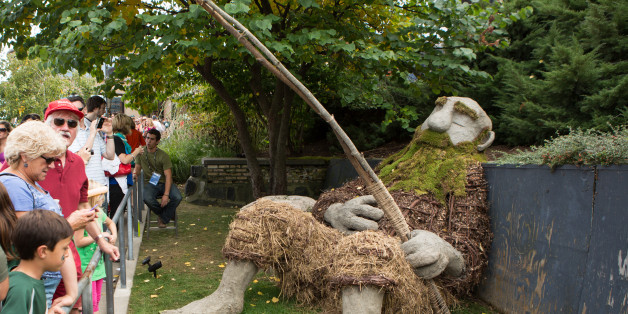 The annual ArtPrize competition began as an off-the-wall idea that agitated and drew criticism from the art world, devised by an heir to a massive fortune. Now in its fifth year, it's a well-tuned event anticipated by casual art admirers, hopeful artists and even critics.
On Sunday, after 11 days of public voting, festival organizers announced the 10 most popular art pieces on display in the city of Grand Rapids, Mich. They'll now go on to a second round of public voting and compete for a share of the $360,000 in prize money, with the grand winner receiving $200,000.
(Scroll down to see the 10 finalists)
It's not only the public voting for such a large cash award that makes ArtPrize unusual, but that it's open to anyone over the age of 18. This year, more than 1,500 entries filled the city, and the competition has received 430,000 votes and counting from the public.
Last year, Adonna Khare's detailed, large-scale drawings of elephants took home the top public vote prize. The public has seemed to favor natural subject matter, which hasn't changed: this year, four finalists depict animals, with many concentrating on natural themes.
The contest has drawn its fair share of controversy, and some have deemed many of the popular entries as low-brow or pandering. Last year, ArtPrize began awarding significant juried prizes too, with a grand prize winner receiving $100,000 and five other entries receiving $20,000 each.
ArtPrize Executive Director Christian Gaines told Michigan Radio that he's happy that the competition draws a large variety of work. He said the variety is reflected in the voters, as well:
"All kinds of people voting, with all kinds of different ideas of what they think is art. And what makes them happy, what strikes a chord with them ... the public vote reflects that," Gaines told Michigan Radio. "This is the only community I can think of where the local NBC affiliate will preempt prime time television for three hours to talk about art in an intelligent way. ... And that's because there's an audience that's interested in learning about that and doing that."
Scroll through the list to see the 10 artists whose works received the most public votes. Find more info about each piece -- and vote for your favorite -- on the ArtPrize website.
PHOTO GALLERY
ArtPrize 2013 Top 10 Finalists
Check out last year's winners below:
PHOTO GALLERY
ArtPrize 2012 Winners