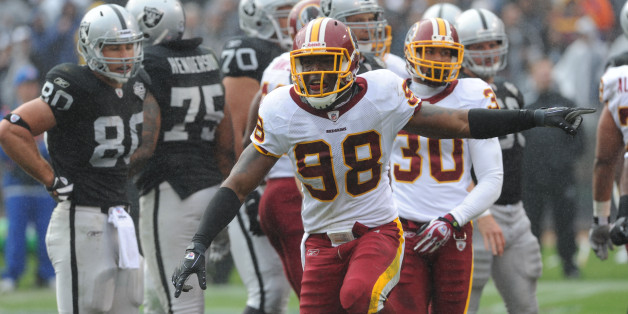 By Joe Lucia, Awful Announcing
The Washington Redskins beat the Oakland Raiders 24-14 on Sunday, and much joy was had in DC. The game was called on Fox by Dick Stockton and Ronde Barber, and there was a lot less joy shown towards those two, mostly because Stockton had issues pronouncing Brian Orakpo's last name.
After the game, when learning about Stockton's difficulties saying his name, Orakpo wasn't pleased, saying that "they suck for doing that" when talking with CSN Washington post-game.
If you want to have some fun, check out what Twitter thinks of this little situation.
IT'S ORAKPO. SAY HIS NAME. ORAKPO. LOOK AT THE DAMN ROSTER DICK (Stockton)

— Dan Steinberg (@dcsportsbog) September 29, 2013
Dick Stockton unleashes Brian Orakpo after finally saying his name correctly

— HTTR24-7.com (@HTTR24_7) September 29, 2013
Whenever your kids want to give up on something, you show them the tape of Dick Stockton saying Orakpo correctly today.

— RG32DC (@burgngoldman) September 29, 2013
Dick Stockton doing his best Ron Burgundy reading whatever is typed...in this case a typo of Orakpo being Orapko

— Mickey Heckhaus (@HeckhausMD) September 29, 2013
Dick Stockton currently on his 8th different pronunciation of "Helu" and 12th of "Orakpo"

— TheOptionRead.com (@TheOptionRead) September 29, 2013
This may be Dick Stockton's last broadcast...Orakpo and Helu are giving him too much trouble...time to put down the headset

— Sam Walker (@SamWalkerOBX) September 29, 2013
I've heard Hello, Halo but not HElu... I've heard Orakko, Orapko but not OraKpo... #smh damn announcers.... #HTTR

— ☆Black Hero★ (@Black_1) September 29, 2013
Brian Orakpo did not look amused upon learning that his name was slaughtered all evening on the television broadcast.

— Tiffany (@Tiffuhkneexoxo) September 30, 2013
Stockton will be calling an MLB Postseason series this week on TBS with Bob Brenly, though the exact series isn't known yet. If he has to pronounce "Uehara", "Teheran", or "Cespedes", things could get dicey.
BEFORE YOU GO
PHOTO GALLERY
PHOTOS: NFL Week 4