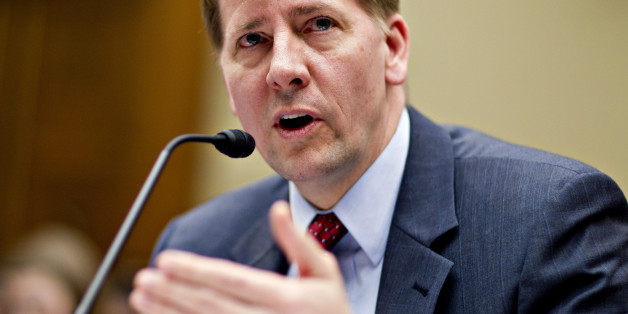 College students are losing money by opening accounts with banks and other financial institutions that charge unnecessary fees while maintaining arrangements with their universities, officials with the Consumer Financial Protection Bureau said Monday.
Many of these arrangements offer no benefit to students other than allowing their school IDs to double as debit cards or sometimes locating a physical bank branch closer to campus. The CFPB observed that unaffiliated banking options either offered similar features or "more attractive options" for student consumers.
"I am concerned that some of our colleges and universities, whether well-intentioned or not, may be encouraging or even requiring our young people to use financial products that do not offer the best deals," CFPB Director Richard Cordray said at a forum put on by the agency in Washington, D.C., on Monday.
Moreover, Cordray warned that some of these financial-product partnerships could undermine students' trust in higher education.

"We're distressed to hear that some students feel pressured to use specific products and may be unaware that when they sign up for those products their schools are secretly making money," he said.
The Higher Education Opportunity Act of 2008 and the Credit CARD Act of 2009 generally prevent student lenders from using a university logo or mascot, but that rule often doesn't apply to debit cards and checking accounts.
In an earlier investigation, the New York attorney general's office found that students often took a bank's use of school branding to mean their college believed the lender was offering a good deal for borrowers. The reality was frequently that the bank had paid the school for the use of its logo.
In some cases, students said they were charged "inactivity" fees on their campus debit cards, while others complained they lost some of their student loan and grant money to fees from third-party vendors who processed credit balance refunds -- the extra money left over from financial aid after tuition and fees are paid.
The Education Department has been slow to issue new regulations on financial aid refunds or campus debit cards. Students and recent graduates used the CFPB forum to press the point that fees from these cards are increasing their education debt loads.
As a student trustee at De Anza College in Cupertino, Calif., Vincent Mendoza tried unsuccessfully to pressure the college to stop using Higher One, a private financial aid disbursement service. He complained that students lost money to the company in fees.
"What sticks with me from that experience is that the board of trustees has a vastly different point of view of what constitutes a good deal for our students," Mendoza said in prepared testimony.
De Anza spokeswoman Marisa Spatafore told HuffPost that it would have been "cost-prohibitive, and highly disruptive from a student services perspective, for the district to cancel the already-signed contract" with Higher One. She said the school does not profit from the arrangement.
Anne Gross, vice president of regulatory affairs at the National Association of College and University Business Officers, noted there are few bank accounts available to the general public that remain free. In terms of which fees are best for students, Gross said, "a lot of this remains in the eye of the beholder."
A July 2012 NACUBO survey cited by CFPB found 26 percent of higher education institutions contracted with a third‐party vendor to process financial aid refunds and another third were considering starting such a relationship. Only 12 percent said they had a relationship with a bank separate from the credit balance refund process.
Among those schools with broader bank relationships, contracts often stipulated bank branches and ATMs be located on campus, and nearly a third included revenue-sharing clauses. Few required the vendor to support scholarships.
NACUBO issued guidelines on campus debit cards and agreements with banks for its member colleges and universities in December. Higher One, one of the larger players in campus banking arrangements, insisted it fully supports those guidelines.
Monday's forum marked the conclusion of a CFPB inquiry into campus debit cards that began in January. Lawmakers are increasingly taking notice of college banking arrangements following an influential 2012 report on campus debit cards from the U.S. Public Interest Research Group Education Fund.
A group of seven congressional Democrats announced last week they would probe whether financial-services providers are engaging in payola regarding campus debit cards and bank accounts. The University of Minnesota, for example, collects $1 million annually in a student ID card arrangement with TCF Bank, although school officials say some of that money is reinvested in scholarships. The University of Illinois at Urbana-Champaign and the University of Michigan have similar set-ups.
CFPB student loan ombudsman Rohit Chopra acknowledged the majority of colleges do not have questionable agreements with financial institutions, but the agency remains concerned about the thousands of students affected by the schools that do.
Diana Fielding, a recent graduate of Hamline University in St. Paul, Minn., said in prepared testimony that she felt pressured into opening a U.S. Bank account during freshman orientation, and remembered seeing the bank's ATMs and ads all over campus.
"I don't think these products should exist on campus at all," she said.
Teri Charest, a U.S. Bank spokeswoman, told HuffPost the bank is proud of its college banking relationships, and pointed out that its student checking account was recognized as one of the best in the country.
"We look forward to responding to any questions that our congressional leaders and regulators have about the services we offer through campus banking," she said.
Some colleges, like De Anza, are now signing up to bring U.S. Bank to campus. Next year, the school will host a U.S. Bank branch in the college bookstore, according to Spatafore, the college spokeswoman.
She said De Anza hopes the new relationship with U.S. Bank will help to address some of the student concerns about Higher One.
BEFORE YOU GO
PHOTO GALLERY
The 10 Members Of Congress Who Owe The Most In Student Debt As Of 2011 (Plus A Few More)