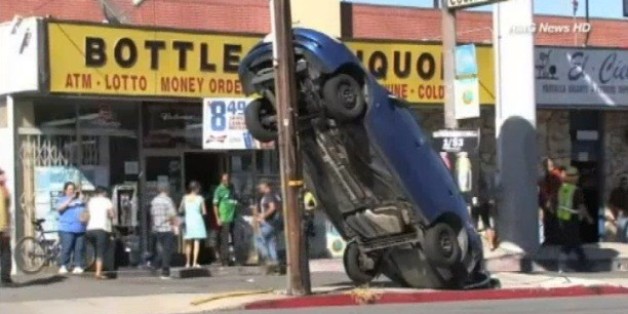 In an effort to avoid crashing into another car, a driver ended up perched vertically against an electric pole in Los Angeles, Calif.
The incredible collision was captured in a photo by RMG News and posted on Twitter:
#PHOTO Crash in Canoga Park leaves car nearly vertical. @rmgnews has the surveillance video. pic.twitter.com/n7YrLSQcDl

— RMG News (@rmgnews) September 29, 2013
RMG News captured surveillance video of the crash as well. The soundless video segment below repeats a clip of the collision before panning out to scenes of investigators surveying the scene and interviewing witnesses.
Thankfully, there were no injuries reported, according to RMG News.
The Los Angeles Police Department didn't have more information about the collision at publishing time, but this story will be updated if they respond.