How's this for an incredible coincidence?
Cmdr. Cindy Murray, a Navy nurse, hadn't seen her little brother, Robert Williamson, since he was six and she was 14.
"We share different mothers," Murray, now 51, told 10News. "My dad went a different way from my mother and we just lost touch."
But in July, after speaking with her father for the first time in nearly four decades, she learned something new about her long-lost sibling: He also worked in the Navy.
Williamson is a chief petty officer aviation ordnanceman working at the Lemoore Naval Air Station in Lemoore, Calif. -- less than five hours from the hospital his sister works at in San Diego.
On Friday, the two sailors finally reunited at the San Diego Naval Medical Center after 37 years apart, U-T San Diego reported.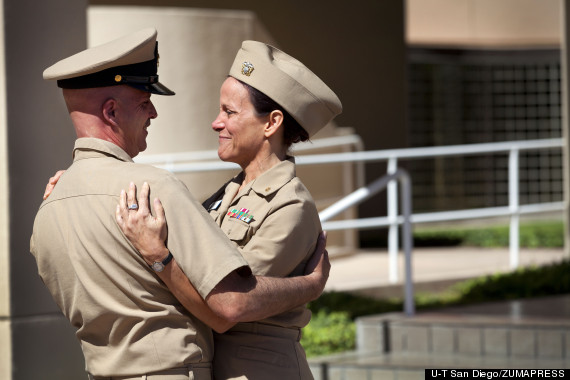 "It's just so emotional. It's the greatest thing," Murray said. "I've looked for him for a long, long time. And now here he is."
"Never in a million years did I think I would be standing here in this situation," Williamson told 10 News.
As adults, both had tried to find the other, but Facebook searches yielded too many results. Now, they're looking forward to being in each other's lives.
"He's never left my mind, ever," Murray said. "I've always wanted to find him and now I have."
H/T msnNOW
BEFORE YOU GO
PHOTO GALLERY
Our Favorite Military Reunions