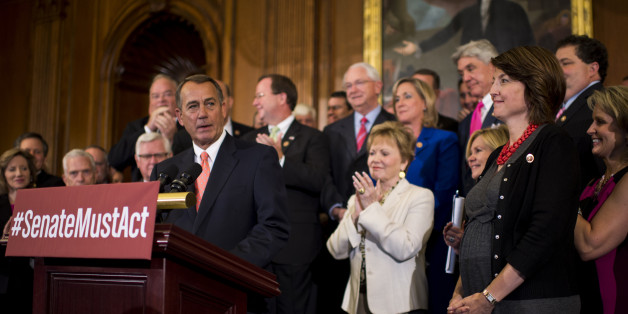 The House of Representatives and the Senate have vollied a continuing resolution to keep the federal government funded, as Republicans have attempted to attach provisions to bring down Obamacare to the funding bill.
If Congress fails to pass a spending bill, the government will discontinue providing services that aren't considered to be "essential."
Below, live updates on the shutdown showdown:
17/10/2013 05:30 BST
Obama Signs Budget Bill
From the White House:
On Thursday, October 17, 2013, the President signed into law:

H.R. 2775, the "Continuing Appropriations Act, 2014," which provides fiscal year 2014 appropriations for projects and activities of the Federal Government through Wednesday, January 15, 2014. The effective time for the continuing resolution begins on October 1, 2013. H.R. 2775 also extends the Nation's debt limit through February 7, 2014.
Read more here.
17/10/2013 04:58 BST
White House Receives Budget Legislation
The White House has received the legislation to re-open the government, raise the debt limit.

— Brendan Buck (@Brendan_Buck) October 17, 2013
17/10/2013 03:59 BST
Federal Employees Back To Work Thursday
Director of the Office of Management and Budget Sylvia Mathews Burwell released the following statement Wednesday evening:
"Now that the bill has passed the United States Senate and the House of Representatives, the President plans to sign it tonight and employees should expect to return to work in the morning. Employees should be checking the news and OPM's website for further updates."
17/10/2013 03:36 BST
Stenographer Removed For Shouting On House Floor
A shouting stenographer was removed from the House floor as lawmakers voted on a deal to reopen the government and avoid a debt crisis.
The stenographer began shouting as the the House approved the number of votes needed to pass the bill. According to reporters, she was yelling about God and Freemasons:
Protester dragged off House floor. Apparently one of the stenographers from the dais.

— Chad Pergram (@ChadPergram) October 17, 2013
Stenographer seemed 2 b shouting + delusional on floor. "This is not a House divided." Escorted from floor during vote,

— Alan Ota (@Alankota) October 17, 2013
An official house court stenographer took to the microphone & was screaming ab God. She was saying in the hall you can't serve two masters.

— Jake Sherman (@JakeSherman) October 17, 2013
Stenographer removed shouting about God not being mocked and the free masons

— Ben Jacobs (@Bencjacobs) October 17, 2013
-- Paige Lavender
17/10/2013 03:27 BST
House Vote: 285-144
The House voted 285-144 to reopen the federal government and raise the debt limit.
17/10/2013 03:18 BST
Republicans Score Amazing Own Goal
HuffPost's Arthur Delaney and Dave Jamieson report:
After voting this year to keep federal employees' pay frozen, Republicans in Congress have accidentally given many government workers their first raise in three years.




It's one of several unintended consequences of the Republican gambit to defund Obamacare by shutting down the government. It isn't a nominal raise, and it won't improve most workers' lives one bit. In fact, so far it's brought mostly misery and anxiety. But here's how it's a one-time raise.

Hundreds of thousands of federal workers have been off the job for two weeks due to the government shutdown. As part of the deal hatched Wednesday to reopen the government, Congress included a measure to pay those workers retroactively for the time they missed, as a matter of fairness, just as it has in the budget impasses of yesteryear. The rationale: federal workers shouldn't have to pay the price for Congress's failures.

But in a symbol of just how wasteful a government shutdown is, lawmakers -- many of whom complain that the federal workforce is bloated, and who haven't granted workers a single cost-of-living adjustment since 2010 -- have forced federal employees to perform two fewer weeks of work for the same salary, all due to congressional squabbling. That's a full pay period, amounting to 3.8 percent of annual wages.
17/10/2013 03:14 BST
House Passes Budget Deal
The House has voted to end the latest damaging battle of divided government in a polarized Congress.
17/10/2013 03:13 BST
House Has The Votes
There it is. House has required votes to end shutdown, avert default.

— Sabrina Siddiqui (@SabrinaSiddiqui) 4 years ago
17/10/2013 03:05 BST
Mitch McConnell Wins The Praises Of... Democratic Leaders
HuffPost's Jennifer Bendery reports:
There was a lot of back-patting among Democratic leaders Wednesday after the Senate passed its bill to end the government shutdown and avert a debt default. But some of their most effusive praise was for the leader of the other party, Senate Minority Leader Mitch McConnell (R-Ky.), who cut a deal with Senate Majority Leader Harry Reid (D-Nev.) at the eleventh hour to avoid catastrophe.

"The Republican leader's cooperation was essential to reach an accord," Reid told reporters, noting his sometimes rocky relationship with the GOP leader. "I've worked with McConnell for many years. The last bit has not been ... [long pause] good."

McConnell "stepped up to be [Reid's] partner when it really counted," said Senate Democratic Whip Dick Durbin (Ill.).