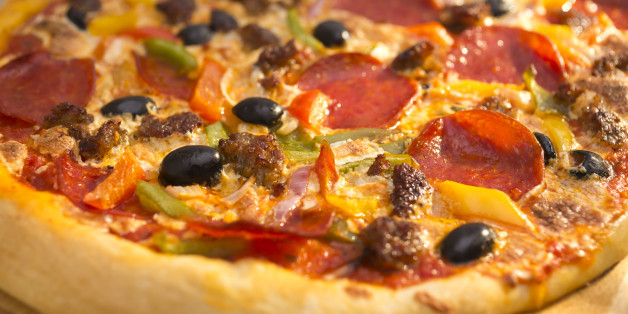 WASHINGTON -- If dishing out pizza to an endless stream of drunken D.C. bar-goers strikes you as a trying job, Jose Luis Ormeno might tell you it's even more thankless than it looks. The former kitchen worker at D.C. pizza chain Manny & Olga's has filed a lawsuit accusing his employer of wage theft, claiming he was cheated out of more than $12,000 in pay.
The suit, filed in D.C. federal court earlier this month, alleges long hours and illegally low pay at the late-night takeout chain, which now has more than a dozen locations in the Washington area. According to Ormeno, for the first six months of his employment in 2012, he worked an average of 81 hours per week for a mere $5.32 per hour, nearly $3 below the D.C. minimum wage of $8.25.
A lawyer for Ormeno didn't respond to a request for comment, and a message left at the Manny & Olga's office was not returned. The suit named Manny Athanasakis, the owner of Manny & Olga's, as a defendant.
Ormeno claims he was paid a flat rate of $420 and later $360 per week, regardless of how many hours he logged. Under the Fair Labor Standards Act (FLSA), most hourly workers are entitled by law to minimum wage as well as time-and-a-half for overtime worked over 40 hours per week. Ormeno says in the lawsuit that he later earned the legal D.C. wage of $8.25 per hour, but that he was paid only for "straight time." His overtime claims for a six-month period alone amount to more than $5,000, according to the lawsuit.
"Plaintiff complained to Defendants about his excessive work hours and the manner in which he was paid," the suit states. "Plaintiff has made Defendants aware that they are in violation of the FLSA; however, Defendants refused to respond."
On top of the $12,286.79 he's seeking in back pay, Ormeno is asking for $24,573.58 in damages.