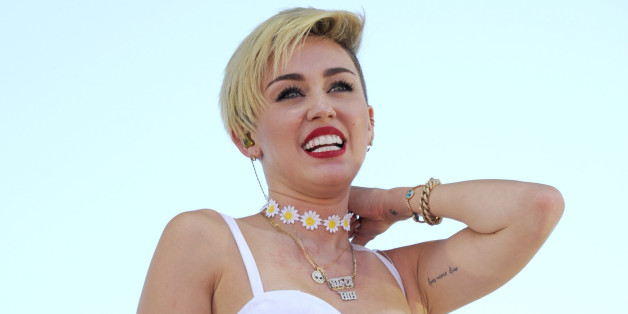 Miley Cyrus is watching "Breaking Bad," but can't quite get into it.
"And 'Breaking Bad' I just got into, but I haven't been able to keep up with it as much," Cyrus said in a Rolling Stone interview. "There's just a lot of him coughing. I'm in the first season, and the coughing is driving me crazy. Like, we get it. You're dying. Do you really need a whole two-minute scene of another cough attack? It's too much. In every bad situation, how does he get out? He just starts coughing."
Cyrus named "American Horror Story" as her favorite show -- "it's so good, so scary" -- and is thinking about starting "Downton Abbey," but doesn't think it's her "vibe."
"I always thought that sh-t was too hipster," she said about the popular UK period soap opera starring Michelle Dockery and Maggie Smith.
Cyrus hasn't been shy about her "American Horror Story" love. The singer started following star Sarah Paulson and tweeted at her.
@MsSarahPaulson I can't WAIT a whole week until the next episode! 💀👽👻💒

— Miley Ray Cyrus (@MileyCyrus) January 3, 2013
"I mean, that was pretty wild. I think I tweeted her back like, 'Are you kidding? Did you follow me? Miley Cyrus watches "American Horror Story"?' I couldn't understand," Paulson told The Huffington Post.
In 2009, Cyrus told Tyra Banks she likes "Friends" "a lot."
Click over to Rolling Stone for more.
PHOTO GALLERY
'Breaking Bad' Final Episodes Images