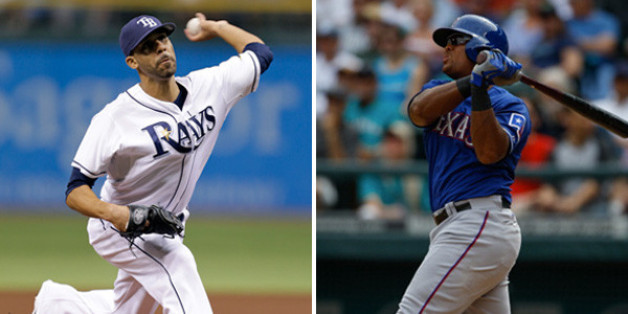 For the Texas Rangers and Tampa Bay Rays, MLB's 162-game schedule didn't quite cut it. Having finished the regular season with identical 91-71 records, these two American League teams will play Game No. 163 to determine who reaches the 2013 MLB Postseason. The winner of the one-game tiebreaker will advance to face the Cleveland Indians in the AL Wild Card Game, another win-or-go-home affair.
"Tampa Bay is coming into town, now we have to keep our game elevated and do what we have been doing. We don't change anything," Rangers manager Ron Washington said ahead of the tiebreaker, via MLB.com. "Just continue to play Texas Rangers baseball and hope to sustain it for a long time to come."
TIME: 8:07 P.M. EST
WHERE: Rangers Ballpark, Arlington, TX
TV: TBS
The Rays will take the field in Arlington on Monday night looking for payback against the team that has eliminated them in their two most recent trips to the postseason (2011, 2010). Tampa manager Joe Maddon will hand the ball to opening day starter David Price for the must-win tilt in Texas. Based on previous postseason results, the Rangers may actually be happy to see the reigning AL Cy Young Award winner. Price is 0-3 in three postseason starts against the Rangers.
"That's a situation I dreamed of as a little kid — it might not be a play-in game to get to the postseason, but it's usually bottom of ninth, bases loaded, two outs, something like that, I always envision myself being in that big moment," Price told The Tampa Tribune. "And (tonight) it'll be the biggest game of the year for us, biggest game of the year for Texas as well, so come out (tonight) and throw my game."
The Rangers, who won the season series between the teams 4-3, will counter with rookie left-hander Martin Perez. Perhaps more importantly, Washington can include Nelson Cruz in his lineup. After serving a 50-game suspension for violations of MLB's drug policy, the All-Star slugger has been activated and will be batting sixth, according to the team's official Twitter account.
Can Cruz make the difference? Will Price finally get the Rays past the Rangers? Does either team have a better chance against red-hot Cleveland?
BEFORE YOU GO
PHOTO GALLERY
2013 MLB Season Highlights