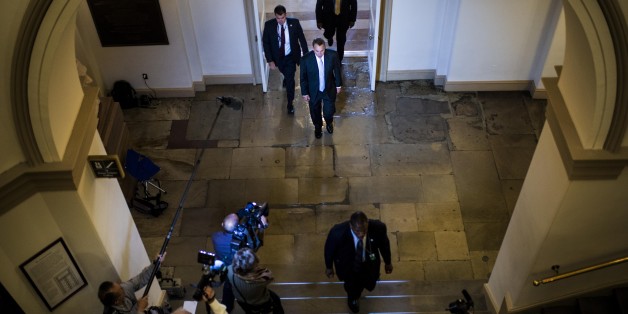 With the government hurtling toward a shutdown, the media dug in for some round-the-clock coverage on Monday.
From the competing countdown clocks to the continuing stream of elected representatives appearing on camera, cable news was in its element: circling around and around the same few pieces of news, getting hosts and guests to argue with each other, speculating, postulating and predicting over and over again.
Interviews with employees of national parks were popular, as were chats with people who sold to tourists near the national parks.
And, just in case weary viewers and readers were worried that there would be any let-up in coverage as the night went on, networks assured them that all was well:
Fox News stays up to cover the shutdown. @gretawire runs 2 hrs 10p-12m then @BretBaier hosts a live Spec Report at midnite via @tvnewser #fb

-- johnny dollar (@johnnydollar01) September 30, 2013
Hours away. @piersmorgan has the latest live 9pm & 12am when the US govt is set to grind to a halt. #pml pic.twitter.com/t9ex9zZ28I

-- Jonathan Wald (@jonathanwald) September 30, 2013
There was also extensive coverage about the coverage, from the usual conservative rundown of supposed liberal sins to an extended campaign by Atlantic writer James Fallows and others to get mainstream newspapers and outlets to stop finding equivalence between the actions of Republicans and Democrats.
One especially shrewd take on the coverage came from Slate, which ran a piece imagining how the shutdown would be covered by an American newspaper if the country in question were not the United States:
The typical signs of state failure aren't evident on the streets of this sleepy capital city. Beret-wearing colonels have not yet taken to the airwaves to declare martial law. Money-changers are not yet buying stacks of useless greenbacks on the street.

But the pleasant autumn weather disguises a government teetering on the brink. Because, at midnight Monday night, the government of this intensely proud and nationalistic people will shut down, a drastic sign of political dysfunction in this moribund republic.
BEFORE YOU GO
PHOTO GALLERY
Conservatives Pointing Fingers