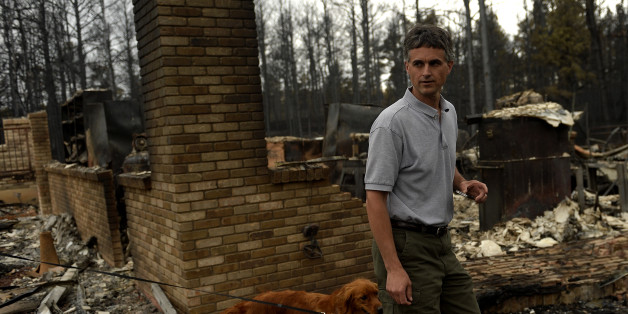 Living outside of the city in a home secluded by towering pines is a luxury that millions enjoy in the United States, but if Colorado is any indication, it may soon cost them.
A series of devastating wildfire seasons in Colorado has prompted Democratic Gov. John Hickenlooper's 18-member task force to recommend more financial responsibility for homeowners living in the wildland-urban interface (WUI).
"People want to live in these forested areas. What we need to do is come together to figure out how we can do that, whether that is stiffer building codes in those communities or having industries develop building materials that put homeowners at less risk," Hickenlooper said at the state's capitol on Monday.
Citing two consecutive years of the most destructive wildfires in state history -- the Waldo Canyon and Black Forest Fires -- the task force recommended that lawmakers charge fees for homes built in wooded areas, via the report:
The two most destructive wildfires in state history have occurred in the last two summers. Combined, the Waldo Canyon Fire and the Black Forest Fire resulted in insurance claims in excess of $750 million, and claimed the lives of four people. The U.S. Forest Service and the Department of the Interior spent a combined $206 million on fire suppression in 1991, an amount which surged to $1.7 billion in 2011. The increasing development of homes in WUI ensures that the pattern of damaging wildfire will continue. A Colorado State University study projects that the state's growth of development in the WUI will increase from 715,500 acres in 2000 to 2,161,400 acres by 2030, a 300 percent increase.
The task force recommended that homeowners be given a wildfire risk ratings and charged a fee "to share the burden of the costs associated with living in the WUI." The fees would help to offset the costs of wildfire mitigation audits, which would be required for homes that are at an especially high risk for wildfires.
But the task force acknowledges that none of the new recommendations will be easy. If homeowners want to sell their property, they will be required to disclose the homes' wildfire risk just as they are required to disclose flood risks, prompting some early concerns that it could make property too costly.
"It could very easily make a home uninsurable or it could make that insurance unaffordable, either of which scenario is unacceptable to somebody who has a mortgage on a home and is therefore required to carry insurance," task force member and Colorado Association of Homebuilders CEO Amie Mayhew told 7News.
Currently in Colorado there are about a million homeowners living in WUI areas who will have to be taken into account. The task force acknowledged the difficult choices that lie ahead for both homeowners and Colorado lawmakers regarding rules for building in wildfire zones:
While it is well-established that reducing fuels and wildland vegetation near homes in the WUI is critical to minimizing risks, these efforts are costly and available resources are often diverte to suppression efforts. Another complexity is that individual homeowner actions can only protect individual homes; neighborhood and community safety requires collective action. Research also shows that adapting structures through measures such as building codes, fire-wise building materials and zoning can appreciably reduce risks. However, any proposed solution must also consider existing homes, which may not be captured by new regulatory measures. Factors like these have historically operated as barriers to progress. The Task Force accepted that to break through these barriers, the leaders and citizens of Colorado much make difficult choices requiring complex political trade-offs and behavioral changes.
According to a recent report by United States Department of Agriculture and U.S. Forest Service titled, "Wildfire, Wildlands, and People: Understanding and Preparing for Wildfire in the Wildland-Urban Interface," about 32 percent of U.S. homes are within the WUI and, alarmingly, massive wildfires are only becoming more common:
The number of wildfires exceeding 50,000 acres has increased over the past 30 years, with most of that change occurring over the past 10 years; many of these large wildfires are more intense than they were in the past. As more people live or work in the WUI, fire management becomes more complex. In addition, the costs to reduce fire risk, fight wildfires, and protect homes and human lives have risen sharply in recent decades. Climate change, insect pests, and diseases, among other influences, are also contributing to vast changes in wildland vegetation that in many areas result in landscapes that are drier, less resilient, and more likely to burn once ignited.
Hickenlooper created the task force in January, about six months after the Waldo Canyon Fire resulted in the deaths of two people, burned 346 homes and 28 square miles. Six months after that, the state was hit with the Black Forest Fire, which resulted in the deaths of two people, destroyed nearly 500 homes and burned a total of 14,280 acres.
BEFORE YOU GO
PHOTO GALLERY
Colorado Wildfires 2013