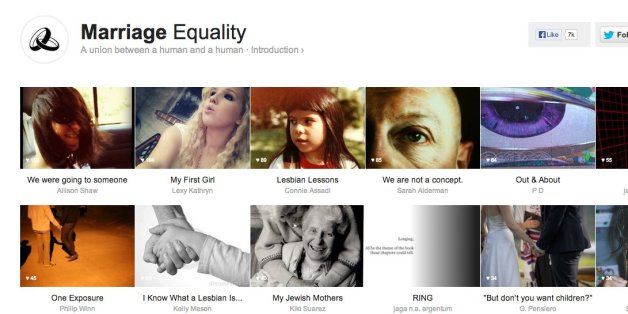 Cowbird, is one of the newest places on the Internet to share your stories with others, or as Cowbird refers to itself, "a library of human experiences."
Cowbird has various sections for each topic of life such as aging, tearjerkers, travel and now it will feature a place for people to share stories about marriage equality.
Dave Lauer of Cowbird describes the role of the site as a place "to reflect the basic truths that all human lives are interconnected, that great stories can come from anywhere, and that we can learn a lot from each other, once we make the time to listen."
Now Cowbird is calling for your stories about marriage equality with the launching of their new section of the site. Lauer outlines the steps to tell your story below:
1. Join Cowbird (it's free!)
2. Sign in and click Tell a Story in the right-hand corner and tell a story about Marriage Equality. Tip: Keep your story short—50 to 350 words.
3. Find a photo and/or some sound (in mp3 format) to illustrate your story, and add them to your story by clicking on the photo icon/microphone icon on the left.*
4. Before you publish, click on the Saga icon on the right and pick Marriage Equality (it should pop up as an option, which you can click). That will add your story to a growing collection. Tip: You should also click on the globe icon on the right to tell us "Where" your story took place.
5. Hit publish and share with your friends on Facebook, Twitter, or through Email. Congratulations! You're done.
It's that simple. So take a few minutes, sign up for Cowbird and share your story of how marriage equality has impacted your life.