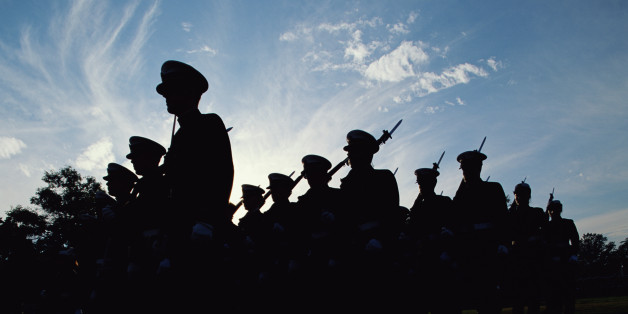 WASHINGTON -- While the military is largely protected from the furloughs that have put 800,000 government employees out of work, civilian faculty and staff at the U.S. Naval Academy in Annapolis, Md., aren't as lucky.
Most of the press on the impact of the government shutdown on the U.S. Naval Academy (USNA) has focused on the cancelation of the Navy-Air Force football game this Saturday. But more than half of the school's faculty members are civilians, according to the Academy's public affairs office -- and none of them are allowed to work during the shutdown. A total of 935 civilian faculty and staff have been furloughed, said Commander John Schofield, a USNA public affairs officer.
Civilian staff at the United States Military Academy at West Point and the United States Air Force Academy in Colorado are also affected, but those schools have a much smaller percentage of civilian faculty than the Naval Academy. "Without question, the efficiency and effectiveness of USNA will be compromised while the government shutdown is in effect," read a statement put out by the USNA public affairs office.
The USNA said the school will try to get military faculty to cover additional classes during the shutdown -- but it may not be possible in all departments. In its statement, USNA noted that chemistry, physics, engineering, Arabic, and Chinese classes would have to be canceled.
"Civilian faculty have been advised that not only can we not teach classes during a furlough, but also that we cannot send or receive communications about USNA business or contact students," said Todd Garth, an associate professor who teaches Spanish in the Languages and Cultures Department at the school, in an email to The Huffington Post. "This means that in large measure, academic activity grinds to a halt."
His department has very limited officer resources, he said, and was told to prepare alternate academic activities for students in lieu of classes. But that was hard to do, since professors weren't sure until midnight last night that there would actually be a shutdown, and no one knows how long it might last now that it's happened.
That meant that the activities teachers put together for students had to be "very general and open-ended," Garth said. "It is also not at all clear how faculty will be able to grade such activities upon our return, since at that point we'll have fallen behind in our syllabi." He writes:
My students, for example, handed in the first draft of an essay today; we have no idea when they will be able to receive my responses, which means they can't plan on when to do their revisions. Students who missed midterm exams last week because of illness or sports and military obligations have no idea when they will be able to make those exams up. This may not sound too grave, but at an institution where successful time management makes or breaks students, this is serious business indeed.
Midterm grades were due Tuesday, but many civilian professors would likely not be able to enter those grades in the system. And progress reports are due on Thursday for students who have been having academic difficulty. Garth also noted that while the library would be open for students during the shutdown, it would have limited hours and there would be no one there to provide circulation, reference or support services.
"As usual, everyone is going well beyond expectations to minimize the impact of the furlough," said Garth. "But it's not exactly a morale booster."
BEFORE YOU GO
PHOTO GALLERY
2013 Government Shutdown