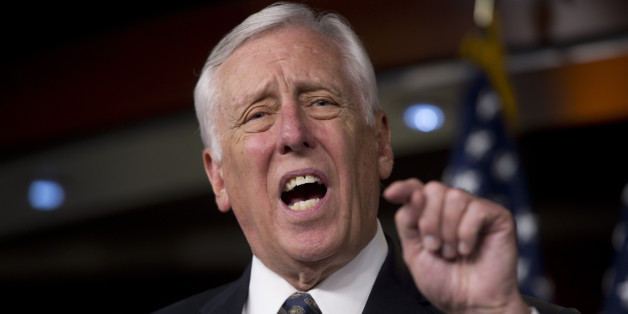 House Minority Whip Steny Hoyer (D-Md.) took a shot at House Republicans on Tuesday evening, criticizing them for playing games and blaming them for the government shutdown.
"They shut down the government. They think that gives them leverage to accomplish what they couldn't accomplish in the election, and it's harmful to the American people," Hoyer said in a CNN interview.
Hoyer criticized House Republicans for framing their actions -- like foregoing salaries -- as "politically salient" to divert attention from the harm they've caused.
"That's another game they want to play, appealing to a demagogue approach to this," Hoyer said. "The members of Congress ought to be on the job working hard, getting this job done for the American people, getting the government opened, getting federal employees back to work."
Several lawmakers have announced plans to donate or refuse their government salaries in solidarity with federal employees who have been furloughed since the shutdown Tuesday. Sen. Ted Cruz (R-Texas) was one of the first, announcing he'd give his salary to charity even before the shutdown began.
Senate Minority Leader Mitch McConnell (R-Ky.) said he, too, would donate his salary to charity, reasoning that "this completely unnecessary shutdown will have a real impact on my constituents."
Democrats have also pledged to forego salaries. Rep. Tulsi Gabbard (D-Hawaii) said she'd send her paycheck back to the Treasury, explaining that she wanted families in Hawaii that will bear the burden of the shutdown "to know I will stand with them."
Hoyer said he believes Americans know better than to fall for Congress' games.
"I think the American people know that playing games with government operations is not what they expect from their Congress. They don't believe it's responsible," said Hoyer.