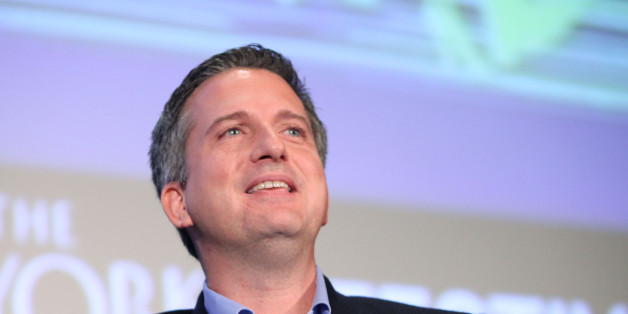 South By Southwest is already a one-stop shop for the latest music, film and interactive properties, and next year the festival will expand to sports as well. Organizers announced SXSports on Tuesday, a new component of the yearly festival of cool that will occur from March 7, 2014 through March 9, 2014.
"The world of sports truly hits the sweet spot of SXSW, the vital intersection of entertainment and technology, and we intend to approach it with the same forward-thinking and culturally relevant perspective we shine on all of our events," Rebecca Feferman, Head of Film Media Relations & Programmer, said in a press release. "We can't wait to connect the sports world with our passionate audience of early adopters, culture nuts, digital creatives, and so much more."
Part of the inaugural event will include a conversation between ESPN columnist and Grantland founder Bill Simmons and FiveThirtyEight.com founder Nate Silver. More information on the event can be found at the South By Southwest official website. Full press release details are below.
Further evolving its mission to foster the nexus of creative industries, innovation and business, SXSW announces SXsports, a new component of the annual event for 2014. The sports-focused track will be Convergent and open to all Interactive and Film registrants, and take place Friday, March 7 - Sunday, March 9, 2014 in Austin, Texas. SXsports will incorporate film screenings and panel elements, and touch on all aspects of sports through the SXSW lens of culture, media and innovation. Featured Sessions anchoring the inaugural SXsports include Opening Featured Speaker Peter Guber, Chairman of Mandalay Sports Media, and Grantland's Bill Simmons in conversation with Nate Silver of FiveThirtyEight, along with a handful of exciting panels that exemplify just a taste of the final program. For more information, visit http://sxsw.com/sxsports.

"The world of sports truly hits the sweet spot of SXSW, the vital intersection of entertainment and technology, and we intend to approach it with the same forward-thinking and culturally relevant perspective we shine on all of our events," said Rebecca Feferman, Head of Film Media Relations & Programmer. "We can't wait to connect the sports world with our passionate audience of early adopters, culture nuts, digital creatives, and so much more."

SXsports will be highly curated and intimate, with a portion of sessions received through the PanelPicker submission process (http://panelpicker.sxsw.com). Additional conference programming will be announced in November, with related film screenings announced as part of the official SXSW Film program in early February 2014. Preliminary sessions announced today include:

Media & The Personal Brand - ESPN, Grantland & 538
Bill Simmons (ESPN Columnist, Special Contributor and Editor-in-Chief of Grantland.com; ABC/ESPN NBA Analyst) & Nate Silver (Statistician, Author and Founder of FiveThirtyEight)
Hunting for Elephants: Creating Enterprise Value in Sports Media
Peter Guber (Chairman, Mandalay Sports Media)
Arena vs. Couch: The Battle of Game Day Experience
Bryan Srabian (San Francisco Giants), Jordan Maleh (University of Michigan), Bob Morgan (SportStream)
The End Game: Storytelling Through Sports
Panelists TBA
The Printed Athlete: Sports Embraces 3D Printing
Jeff Beckham (Jeff Beckham) & Mike Vasquez (Tribal Sciences)
Innovation in Big-Time College Football
Kliff Kingsbury (Texas Tech University) & George Schroeder (USA TODAY)
PHOTO GALLERY
Stars At SXSW 2013