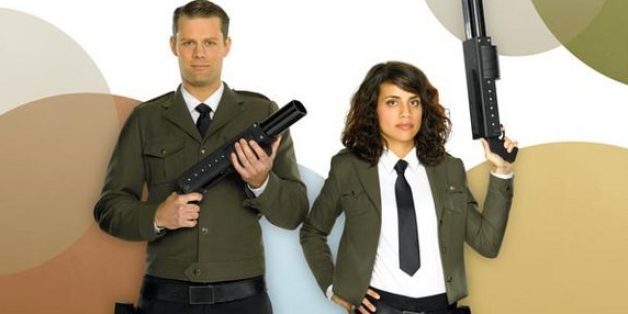 "The Middleman" creator Javier Grillo-Marxuach launched a crowdfunding initiative Tuesday that he hopes will bring new "Middleman" content to fans.
The late, lamented, greatly entertaining screwball sci-fi series "The Middleman" ran for one season on ABC Family in 2008. But "The Middleman" -- which chronicled the adventures of a brave, strong-jawed duo that protected Earth from interstellar dangers -- existed as a comic book before and after the TV show existed.
Prior to selling the show to ABC Family, Grillo-Marxuach ("Lost," "Boomtown," "Helix") wrote comic books about the duo; and after the show ended, "The Doomsday Armageddon Apocalypse" wrapped up the adventures of The Middleman (Matt Keeslar) and Wendy Watson (played by Natalie Morales, one of the stars of the new ABC comedy "Trophy Wife").
As Grillo-Marxuach explained in the latest Talking TV podcast, the goal of the crowdfunding campaign is to keep all of the "Middleman" comics in print, and to bring a new adventure to the faithful.
"Ever since the show was canceled and we put out the comic book and the DVD ... people keep asking me: A) Is there going to be more? and B) Where can we get the comic books?" Grillo-Marxuach said. He had only praise for the comic book's publisher, Viper Books, but said it can still be "really hard to find the books." The crowdfunding initiative represents a way to deal with both questions, he said.
The crowdfunding effort, if successful, would also afford Grillo-Marxuach with a novel solution to a situation that other creators might regard as a nuisance: The pre-TV show comic books featured a different version of The Middleman and Wendy than the later comics did. If the funding goals are met, "Middleman" fans will get to enjoy a new comic, "The Pan-Universal Parental Reconciliation," which will feature versions of characters from the show alongside those from the comics, as well as new information about Wendy's origin. A key detail about "Pan-Universal" that Grillo-Marxuach revealed in the podcast centers around Wendy's mysterious father.
Those who support the Indiegogo venture at the higher levels will be able to attend a live reading of "The Pan-Universal Parental Reconciliation" on May 24 (providing donors can get themselves to L.A., that is). The show's cast is slated to participate, and taking the role of "comic-book Wendy" will be actress, writer and director Amber Benson, who played Tara on "Buffy."
Grillo-Marxuach also discusses in the podcast whether we can expect to see "The Middleman" show on one of the streaming services (sadly, that seems unlikely), and much more. As we did in an earlier conversation, Grillo-Marxuach also talked a bit about the state of TV and "Breaking Bad" (but not about the finale, as the podcast was recorded two weeks ago).