Even on their day off, the police officers of Tulsa's Gilcrease Division found a way to do good.
According to Tulsa World, the city's police department held a free bike repair clinic for local kids last Saturday in an effort to spread goodwill and provide a helpful service to families in the community.
Story continues after photo.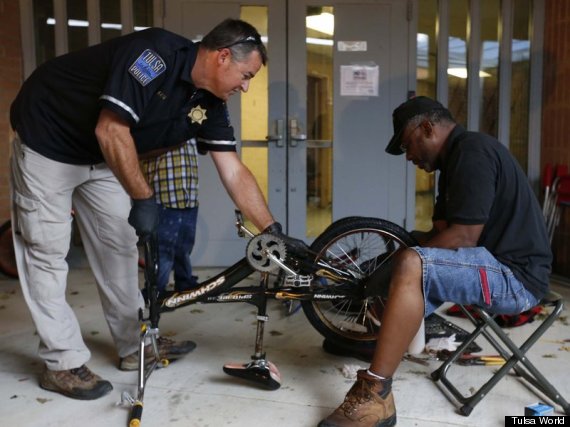 "This is new for me," 16-year-old Immanuel Ortega, who brought his bike to the clinic, told Tulsa World. "I've never seen policemen doing something like this unless it's something crime-related. In my neighborhood, all the kids ride bikes so I know there's some that need repairs."
The officers held the event as a "way to build ties within the community, connecting with both the youth and their families," according to a press release from the Gilcrease Division. The packed event offered barbecue from a sponsoring restaurant and donated parts from a local bike shop.
"It will give them an opportunity to come out and meet some officers," Officer Kelly Riley told the paper, "and see some of us in a different light."
These officers aren't the first to use bikes to reach out to their local youth. In May, an Arizona police sergeant gifted an underprivileged teen with a set of wheels so that he could safely make it to and from his fast food job.
And last month, a Minnesota cop turned his police department's image around by sticking a 360 on a kid's bike.
H/T: msnNOW
BEFORE YOU GO
PHOTO GALLERY
The Most Heartwarming Thank You Notes To The Police