Over the course of art history, a number of female artists have given up on their work and themselves far too early in their career. This was the case for the Surrealist painter Doris Lindo Lewis, who died largely unknown in 1995, leaving a treasure trove of her works hidden, of all places, under her bed.
Lewis didn't even discuss her artwork with her only daughter, Sydney Lewis Glover, which made it quite a surprise when Glover discovered a collection of museum quality artworks while cleaning out her mother's house after her death. Thanks to her daughter's artful eye, Lewis' work is finally being recognized as a notable example of early female surrealist artwork.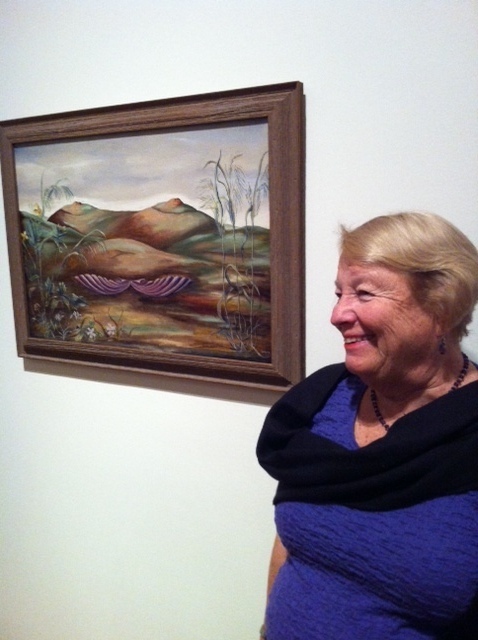 Sydney Lewis Glover alongside "Mamscape", image courtesy Erica Hirschler
Lewis was born in Costa Rica in 1909 and spent her childhood in both Jamaica and Cambridge, Massachusetts. Although she dabbled in Surrealist style artwork for a time, she later moved on to more realistic portraits, landscapes and then to abstraction. Glover knew of her mother's passion for art, but was shocked when she found a whopping 60 works of art hidden under a bed and in a closet at Lewis' former home.
"She didn't talk about her art," Glover's husband told the Boston Globe. "Didn't show us her art... I never saw more than one hang, and it was in her husband's closet."
Now Lewis' paintings have gone from closet to museum, most recently hanging alongside the masters in Boston's Museum of Fine Arts. The institution is on board to acquire two of the newly discovered works, entitled "Mamscape" and "Out of Time and Place," which will be welcomed into its collection later this month. Both of the works combine a fascination with nature and a mysterious force of eroticism, at times using the female form as natural, otherworldly landscape.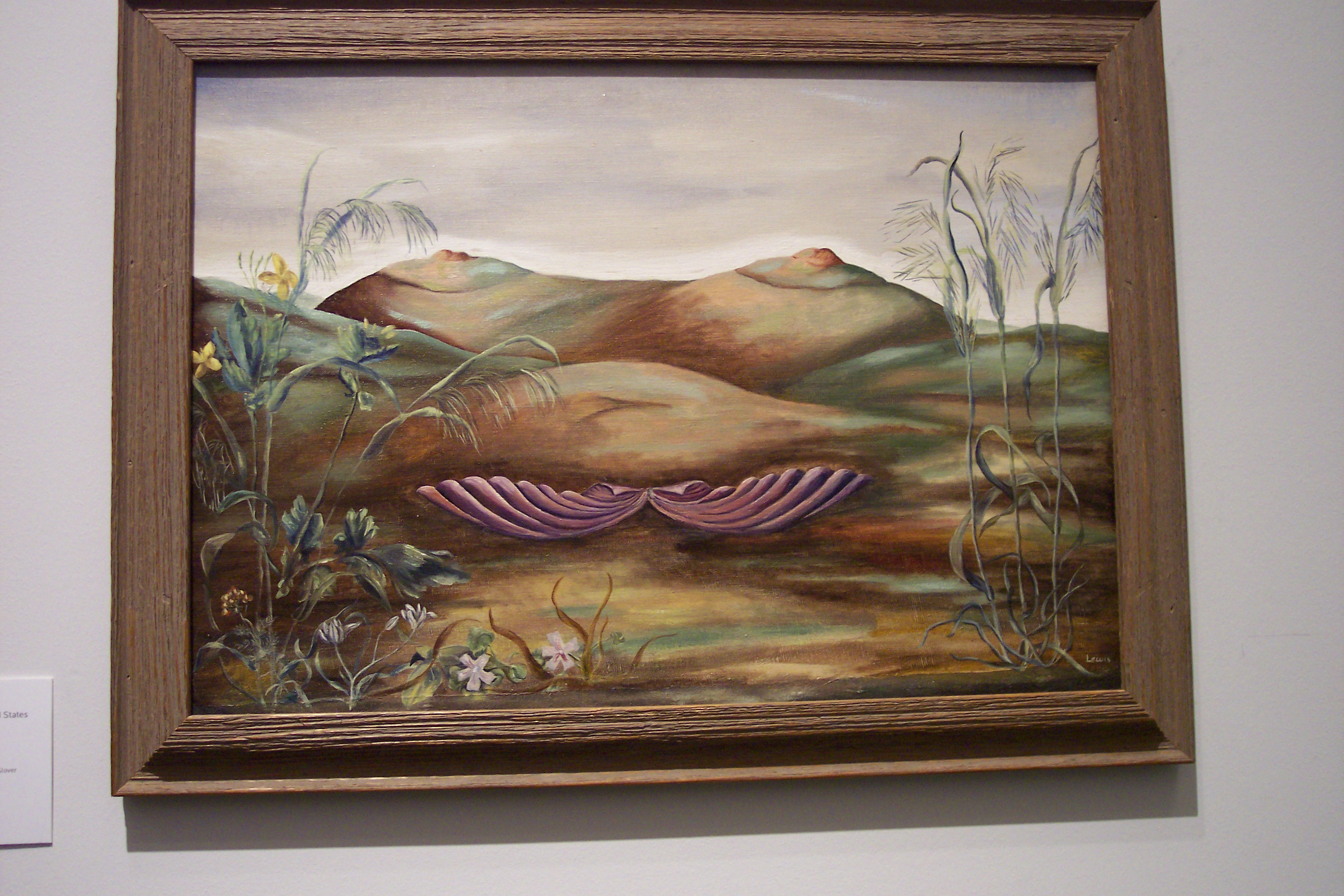 Lindo's "Mamscape", image courtesy Erica Hirschler
"Mamscape" was previously on view in LACMA's "In Wonderland" exhibit a survey of female surrealist works that took place shortly after Glover found the works. Since then, Lewis' oeuvre has garnered its fair share of attention, with one piece titled "Ear and Feather" valued at $12,500 according to Brock and Co.
Erica Hirshler, Curator of American Paintings at the MFA, explained her reaction to the works in an email to the Huffington Post:
"I find both works fascinating in their combination of dream-like imagery and precise botanical rendering of local Massachusetts vegetation. 'Out of Time and Place' includes an ancient Costa Rican sculpture that is now in our collection. The overt sexuality of 'Mamscape' is characteristic of surrealism, but rather than the voyeuristic, often aggressive depictions of women's bodies made by many male artists, Lewis's vision is celebratory and powerful. I'm delighted to add these two unusual surrealist works to the MFA's collection because they add to our collection of works by women artists, augment our slim holdings of surrealism, and provide links between the Americas."
We're thrilled to see Lewis' work finally basking in its long overdue glory. This serves as just another friendly reminder to check under your bed -- and behind your door, and in your storage space -- for the next undiscovered art masterpiece.
Correction: An earlier edition of this article mistakenly stated the works were found last year. They were in fact found shortly after the artist's death in 1995. We regret the error.