Point and shoot.
A gun-wielding driver has been arrested after another motorist captured cell-phone footage of the man waving a weapon through the window of his moving car.
Police say that Perrin Dobyns, 51, aimed and possibly shot the gun at the other driver during a bout of road rage around 2:45 p.m., Sunday, on I-75 in Kentucky, LEX18 reports.
The witnessing driver said he took out his camera when he noticed another driver, later identified as Dobyns, swerving down the highway. That's when Dobyns, seemingly responding to being filmed, took out the weapon, police told ABC News.
LOOK: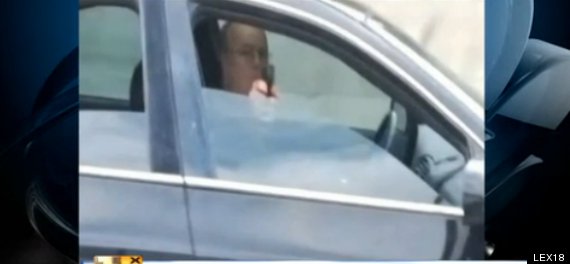 The witnessing driver later turned over the video to the authorities, who busted Dobyns on Monday in his hometown of Corydon, Ind.
"I was concerned for everyone's safety," the driver turned cameraman said, according to RTV 6. "I could get his plate and report it to police and let them follow up on it. I didn't expect to get shot at in the process."
Nobody was hit by the allegedly fired bullet.
Dobyns was charged with first-degree wanton endangerment, according to the New York Daily News.
BEFORE YOU GO
PHOTO GALLERY
Caught On Camera