WASHINGTON -- The Republican National Committee engaged in a political stunt Wednesday, with Chairman Reince Priebus offering to give the government around $150,000 to keep the World War II Memorial open for 30 days during the ongoing government shutdown.
Priebus held a press conference on Wednesday in front of the barricaded World War II Memorial, which has been closed to the public for the past two days but has still been visited by veterans and members of Congress, who helped remove the gates.
Despite the fact that the National Park Service announced an accommodation for veterans on Wednesday by deciding they could continue to visit because they were engaged in First Amendment activity, Priebus accused the Obama administration of unnecessarily barricading the memorial to demonstrate the impact of the government shutdown.
"Make no mistake, it was the Obama administration's choice to barricade this memorial, and it was their choice to lock out veterans across this country," Priebus said, adding that the administration had wanted to make the shutdown "as painful as possible, even taking the unnecessary step of keeping the Greatest Generation away from a monument built in their honor."
Tourists who had bypassed the barricades blocking the memorial were mingling inside it until a few minutes before Priebus' press conference, when a group of Park Police arrived to kick them out.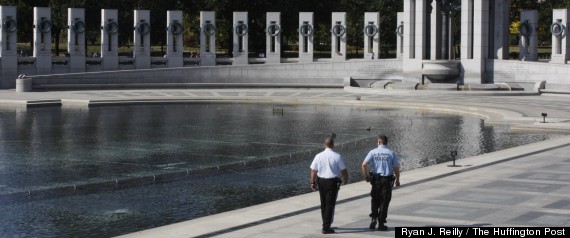 Putting aside the fact that there's already an accommodation for veterans visiting the memorial, the federal government can't and won't accept the RNC's money to keep the memorial open, as Priebus seemed to acknowledge.
"If the White House complains that such action is not permitted, I'd simply remind them that their unilateral action to give exemptions from Obamacare to big business and their political allies wouldn't seem permissible either," Priebus said. "If they can go to such lengths to protect their political interests, surely they can do something to support the interests of those who fought in World War II."
BEFORE YOU GO
PHOTO GALLERY
2013 Government Shutdown