Brendan O'Toole won't let anything stop him from running 3,600 miles to raise funds for struggling veterans –- not even something as serious as a blow to the head he recently sustained.
After serving four years and two deployments in Afghanistan, O'Toole returned to the U.S. and his friend who served in Iraq committed suicide and O'Toole found the bureaucracy he faced at the VA unbearable. That's when the former Marine decided to take matters into his own hands in order to get the services he, and thousands of other returning vets, need, NBC Philadelphia reported.
"The VA system is backed up right now, and instead of playing the blame game we decided to find services that can help our veterans," O'Toole told CBS42.
So, last Veteran's Day, O'Toole embarked on his "Run for Veterans" initiative, a 3,600-mile cross-country race to raise funds for local veterans nonprofit groups and to connect civilians with military personnel, according to his website.
O'Toole has gotten an incredible amount of support along the way, and raised $80,000 as of July, but was recently met with a hateful act that nearly knocked him off of his feet.
While running through Wilmington, Del., on Wednesday, a passerby punched O'Toole in the face, and ran off, NBC Philadelphia reported. The generous vet tried to continue running, but his head started pounding and he realized he had suffered a concussion.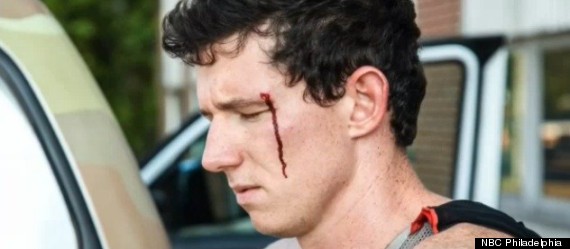 Though O'Toole is exhausted and is planning on taking a few days off before he resumes running, and he has no intention of giving up.
"The road is not getting any easier," O'Toole's supporters wrote on his Facebook page. "The cities and towns are becoming more dense. Brendan's body is battling these last few hundred miles. The team is exhausted after being on the road for 325 days. And to top all that, he just got jumped in broad day light while finishing up Delaware. There never seems to be a break. Everyone's support goes a LONG way. Please keep spreading the news!"
If this story upsets you (and we hope it does), channel that into support for O'Toole's cause here..
BEFORE YOU GO
PHOTO GALLERY
Companies That Work To Hire Veterans